Shortcut eases Roche Caiman traffic flow-• Agency installing street lights
31-July-2012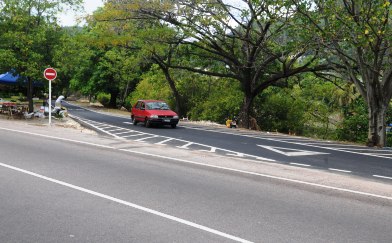 The shortcut links St Thérèse and Bois de Rose roads but is one-way and should be used by vehicles heading towards town from Plaisance only and not the other way round, SLTA chief executive Parinda Herath said yesterday.
It was opened on Friday when he said drivers joining Bois de Rose road clearly benefitted as they avoided the usually congested roundabout "and got good cooperation from others – some of whom gave way and allowed them to join the main road".
Asked if traffic building up on Boise de Rose will not negate the benefits of the shortcut, Mr Parinda said vehicles rarely pile up to the roundabout.
"If that happens, for example if there is a bottleneck at the Le Chantier roundabout then the benefit would be lost but that rarely happens."
He also said the agency is installing street lights along the new section of road where some young ladies told Nation at the site yesterday they lost their mobile phones to thieves not long ago "as early as 6.45pm when walking across the park".