Former basketballer Julie says thank you
31-July-2012
A former Beau Vallon, Anse Etoile Stars and Seychelles player, Julie suffers from cancer and he received R5,000 from the Seychelles Basketball Federation represented by its chairperson Sheila Ah-kong.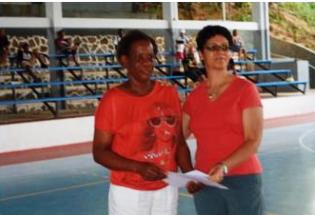 Anse Etoile Stars and HotShots teams also made donations. But probably the most touching moment was when Nydia Samy, who continues to fight a cancer, gave a token to Julie.
The R5,000 given to Julie was raised from the sale of tickets during the three charity matches played earlier this month.
In the women's match, defending champions Anse Etoile Stars got a game-leading 17 points from captain and centre Simone Malbrook on the way to a 70-48 win over HotShots.
The men's second division encounter between Beau Vallon Heat and Anse Etoile was won by the former on a 69-59 score. Premium Cobras beat reigning division one champions PLS Hawks 71-62 in the day's other encounter.
Former Seychelles international Samy -- who won three Indian Ocean Island Games silver medals in 1990 in Madagascar, 1993 in Seychelles and 1998 in Reunion -- received R46,160 from the SBF last year to pay her expenses for a check-up in Chennai, India. She defended the colours of Mont Buxton, Rivière Anglaise and Anse Etoile Stars during her heydays.
G. G.