UN awards Seychelles top award-Information Communications Technology
02-August-2012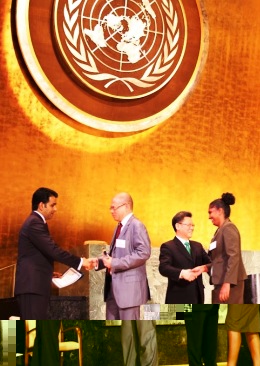 The award was presented by top United Nations officials in New York to the principal secretary for ICT Benjamin Choppy and the director general for the information technology division Lanka Dorby at the UN headquarters.
To mark the occasion and to reward the other 37 staff of the division who work behind the scenes to propel Seychelles to the fore in all areas of ICT, a ceremony presided over by Vice-President Danny Faure was held at the Seychelles Trading Company's conference room yesterday.
Mr Faure – who is also the Minister for ICT ¬– congratulated them on the occasion dubbed Recognition of Achievement Ceremony.
"We are here this afternoon, to give recognition to and celebrate the achievements of the organisation, specially the technicians of the department of ICT. Although a relatively small organisation, you have been able to achieve first place ranking in a continent boasting more than 50 countries and over 800 million people. Despite our smallness, through you, Seychelles now features on yet another map; this time the one of E-Government," he said.
Saying 2012 is proving to be a particularly exceptional year for the Department of Information Communications Technology, Mr Faure recalled the telecommunications side saw the landing of Seychelles's first optic fibre submarine cable in which the department played a crucial role.
"Now clinching the top award in Africa for E-Government, and to crown it all the winning of a United Nations award, is indeed an accomplishment worthy of praise and of great pride for our country.
"We have to acknowledge that as a small developing nation, we have also made remarkable progress to improve our worldwide ranking from 104 in 2010 to 84th position in the space of two years," said Mr Faure.
He said this was due to our willingness to move ahead, to embrace change and cater for the necessary infrastructure, integration of services and manpower needs for ICT development.
"The UN E-Government Survey which is carried out every two years is arguably the most respected and recognised publication in this field which independently and objectively measures the progress of countries in E-Government implementation.
"It also provides insight into new trends, developments and thinking. From the report, it is clear that the strategies that DICT has in place for E-Government implementation in Seychelles are indeed in the right direction and reflect the current thinking in this area.
"I am especially pleased to note that the whole staff of DICT working on the implementation of E-Government is 100% Seychellois, young bloods in majority, a significant proportion of graduates and typically have been with the organisation for a number of years now," he said.
Nation hopes to bring you further details in our issue tomorrow about the ceremony and the reasons why Seychelles won the award.