Fight against piracy tops new British HC's agenda
03-August-2012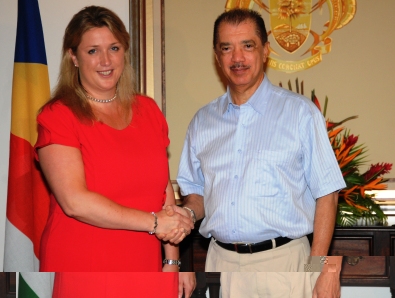 Mrs Lindsay Samantha Skoll said this in an interview with the press shortly after presenting her credentials to President James Michel and paying a courtesy call on Vice-President Danny Faure at State House Thursday morning.
"What I am very much looking forward to do is getting the anti-piracy and prosecution centre in operation and more importantly getting a very good number of partnerships from across the region and the wider world to support and help finance the centre. The aim is for it to really become a centre of excellence and information sharing," said Mrs Skoll.
She said she hopes to get the building in place and to have it well staffed by the end of the year.
A memorandum of understanding for the creation of the RAPPICC in Seychelles was signed by President Michel and British Prime Minister David Cameron at Number 10, Downing Street in February this year.
This followed bilateral talks between the two leaders, together with the British Foreign Secretary William Hague, and the Seychelles Minister for Home Affairs and Transport Joel Morgan, Minister for Foreign Affairs Jean-Paul Adam, and the former British high commissioner to Seychelles Matthew Forbes.
The RAPPICC, which the UK is funding, will gather intelligence for the use of law enforcement agencies, in order to provide necessary evidence for prosecutions related to piracy activity in both the region and around the world.

The UK is also providing the first director for the centre, while Seychelles will provide the infrastructure necessary for the creation of the new anti-piracy mechanism.
Yesterday following her first meeting with the two Seychellois leaders, Mrs Skoll expressed her joy and appreciation to the President, ministers and everyone for the warm welcome she has received here.
She said that during her mandate she will also ensure that "our very dynamic and flourishing bilateral relationship remains absolutely at the forefront of everything we do."
"It is a relationship that is built on an active partnership in many areas whether be it the fight against piracy, judicial reforms, climate change and finance and that is very much the two countries working together," added Mrs Skoll.
With regard to the fight against piracy, Mrs Skoll has commended the excellent work done by her predecessor in laying the foundation stone in that area.
Mrs Skoll also commended Seychelles' leadership role in the region.
"I am very much applauding what Seychelles has done already in showing real leadership and dynamism in the Indian Ocean region," she said.
Mrs Skoll is replacing Matthew Forbes who had been his country's high commissioner from July 2007 until June 2012.