By-election voters urged to carry cards
03-August-2012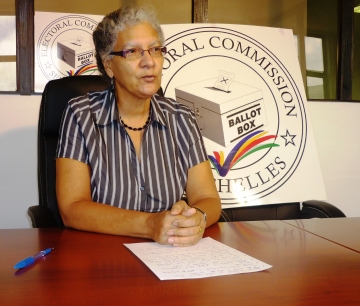 Should they regrettably not have their IDs then they should bring along their passports, chief registration officer Jenny Adrienne said in an interview Thursday.
Anse aux Pins voters residing temporarily on other islands are due to cast their ballots on August 8 while the main polls will be in the district on August 10 in voters' bid to fill the vacancy left when their former member of the National Assembly resigned.
Mrs Adrienne said those who may have changed their names since they last checked the voters' register – for example through marriage or divorce – should bring along document to prove the changes indeed took place, for example their marriage certificates.
Some voters who were due to turn 18 during the next 15 months were included on the register before it closed, but only those who will have attained 18 years on polling day will be able to cast their votes, she said, adding officials will be very strict with the minimum age limit.
"If you will not have turned 18 years when you are on Praslin on August 8 but you will be 18 on August 10, then you will have to go to Anse aux Pins to vote because the law is very clear on the voting age," she said.
The electoral commission does not normally remove voters' names from the register except if they have been jailed for six months or longer, but people who did not check their names in January and are not sure that they still feature on the register should confirm by either checking with the commission at its Aarti chambers offices, by text message or on the electoral commission's website www.ecs.sc.
To check by SMS, a person should enter their ID number and send it as a message to number 9600 to get instant confirmation that he or she is registered.
"Confirming will help those whose names may not be there to avoid queuing only to discover they cannot vote," she said, adding the commission will not in any way alter the register and any person who did not check his or her name in January and it happens not to be there will have to wait until January for their names to be entered.
"If you checked your name, however, and you have a receipt that it was found, you should be able to vote if you bring along the certificate you were given upon checking and your ID card," she said.
The simple fact that you live in Anse aux Pins does not entitle you to vote. You have to be a registered voter, she said.