Karting-Speed and thrills in Mid-Season GP
04-August-2012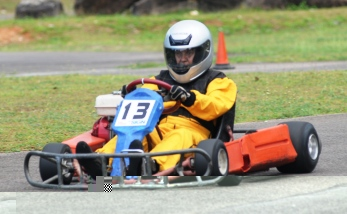 Eighteen races were run on the day which ended with the prize-giving ceremony late in the afternoon.
Shirin Azemia (SKN, Newcomers), Michael Padayachy (SF6 Cadet), Ryan Marianne (SF5 Junior), Chan Decommarmond (SF4), Debra Mellon (SFL Ladies) and Roland Delcy (SF3) were the winners on the day.
Female driver Shirin Azemia took her first win ahead of Maxime Tirant in the SKN (Newcomers) class, while Shane Didon finished third, Kieron Thomas fourth ad Dermal Shakida fifth.
Both Azemia and Didon registered wins in the heats raced earlier.
Drivers in the SKN class will now run mini-championships until the end of the year as they challenge each other for the 2012 Novice champion title.
In the SF6 category (Cadets), Michael Padayachy dominated the races to take the win ahead of South African David Viljoen who was second and Indian driver Keval Shakida finished third. Anil Gonthier drove steadily to fourth position followed by Angelo Padayachy and Greg Aglaé in fifth and sixth places.
Ryan Marianne took yet another win in the SF5 (Junior) division to extend his lead in the championship, while Rodney Salome made sure he was not too far behind in second place.
Arnold Mein finished third, Michael Gédéon fourth, Amadave Camille fifth and Julio Chetty sixth.
Marianne now holds a slender three-point lead in the championship over runner-up Salome, while last year's champion Mein is third.
Chan Decommarmond took a spirited victory ahead of Christian Port-Louis who had another good drive in the SF 4 class, while Andrew Gabriel finished third.
Port-Louis and Decommarmond were the favourites for the final after they each won a heat.
Yannick Gabriel took fourth place, with Debra Mellon finishing fifth and Rennick Bonnelame sixth. One of the favourites, Montel Kurz was unlucky not to start the final due to engine problem with his kart.
Decommarmond, Andrew Gabriel and Kurz all head the table with the same number of points.
Debra Mellon did get a win on the day, stamping her authority on the rest of the field in the SFL (Ladies) class to take another victory ahead of Bernadette Mein and Velma Esparon.
In the SF3 division, Roland Delcy took victory when it mattered after occupying the runner-up spot in the past events. This time he dominated a strong field with Peter Fred finishing second and Marc Delcy third.
Marvin Sophie cruised to fourth place ahead of Dane Decommarmond (fifth) and Redman Bonnelame (sixth). Damien Bonnelame, who is usually a favourite in this class, was unlucky on the day and finished seventh.
From the heats it was clear that Roland Delcy, Marc Delcy and Fred would challenge each other for the win in the final and they did not disappoint.
After a long and enjoyable day, the first three finishers in each class were awarded prizes by Seychelles Karting Association chairperson Liza Rene-Cosgrow and vice-chairman John Simon.