Seychelles hosts second round of Madagascar talks
09-August-2012
Among key players were the talks' host President James Michel of Seychelles and South African President Jacob Zuma, who chaired the meetings in his capacity as the chair of Southern African Development Community (SADC) Organ Troika on Politics, Defence and Security.
Whereas the Malagasy leaders arrived in the country on Tuesday, President Zuma arrived yesterday morning and was met at the Seychelles International Airport by President Michel.


The Malagasy leaders are here to continue their discussions aimed at reaching an agreement on the implementation of the SADC Roadmap for the resolution of the crisis in Madagascar.
They first met on Desroches from July 24 to 26 when the talks were inconclusive and the decision was taken to hold further talks at a venue that was not yet determined at the time, although Seychelles was slated as a possible venue that was seen to be neutral and convenient considering among other factors that President Michel easily switches from the English – which the South Africans are more at home with -- to French, which the Madagascar team reportedly preferred.
The leaders were to reconvene to conclude the outstanding issues in order to report to the SADC Ordinary Summit of the Heads of State and Government in Maputo, Mozambique, due to be held on August 16.
The two Malagasy leaders – Messrs Rajoelina (photo above) and Ravalomanana arriving at Ephelia Resort yesterday for the start of the second round of talks on the Madagascar crisis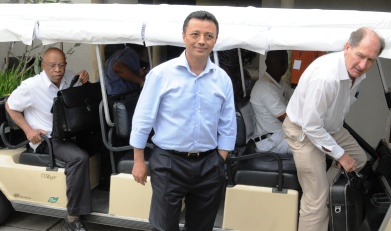 At the time of going to press last night, no announcement had been made about the outcome of the talks but we hope to bring you further updates tomorrow.