Miss World 2012 -Sherlyn Furneau holds fourth place in people's choice award
11-August-2012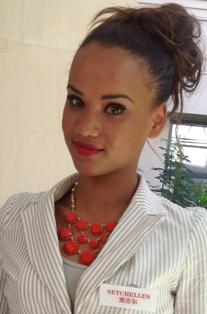 Seychelles' beauty queen has been in Ordos of Inner Mongolia for the last four weeks now, where she is contesting against 115 other world beauties for the coveted Miss World 2012 crown.
She is in fourth place with 2,309 votes, standing behind Miss Chile who is leading the Pageantology – Miss World 2012 People's Choice Award with a high vote of 4,291. Not far behind is Miss Nepal with a total of 4,170 votes and Miss Thailand is third with 3,779 votes.
Following Ms Furneau in fifth place is Ms Jamaica with 877 votes. She is being trailed by Ms Vietnam (660 votes), Ms Paraguay (614), Ms St. Kitts & Nevis (578), Ms Guadeloupe (437), Ms Philippines (369), Ms Slovenia (328), Ms Côte d'Ivoire (294), Ms Guyana (284), Ms Gibraltar (242), Ms Angola (228), Ms Venezuela (186), Ms Nicaragua (173), Ms Indonesia (144), Ms Guam (142), Ms Peru (142) and Ms Curacao (120)
Ms Furneau, who has been attracting attention all around the world, has described her involvement in Miss World 2012 as being by far the most exciting experience of her life.
"Now, whenever I'll be asked what is the most exciting thing I have ever done in my life, I would proudly say I took part in Miss World 2012," exclaimed Ms Furneau.
"We've had the chance to visit many sights of interests, such as the grasslands, parks and the zoo, as well as a community centre whereby we had the little ones performing for us. They totally captured my heart by the way they danced. They were amazing," added Ms Furneau.
She went on explaining that all the contestants have entered into an intense rehearsal period in preparation for the grand finale of Miss World 2012 on August 18.
Right from the start of Ms World 2012, Ms Furneau has been receiving the support of fans from Seychelles and beyond, who are cheering and following her journey closely, as well as putting her at the forefront by voting for her.
To keep her widely popular vote or even better, to raise her status for the Pageantology – Miss World 2012, visit www.pageantology.net to vote for her. Voting is allowed until August 17. Multiple voting is allowed and you can vote once a day.
To stay up to date with Ms Furneau's involvement in Miss World 2012, you can visit her Facebook fanpage, Miss World – Seychelles. More information on Miss Seychelles ... Another World can also be found on the Miss World website at http://www.missworld.com/Contestants/Seychelles/, where you can also like her fan page.
Accompanying this article are photos of Ms Furneau's many visits in Ordos.