Basketball: National League-Stars upend Mont Fleuri, Hawks extend win streak Cobras hold off Dawgz
14-August-2012
In the weekend's much-anticipated fixture, Premium Cobras took the stuffing out of Mont Fleuri Dawgz as they stay in the fight for the runners-up berth and why not the men's top flight championship title in the event the Hawks stumble on the home straight.
All the action was at Victoria Gymnasium.
Mont Fleuri 46 … Anse Etoile Stars 67
Having picked up four fouls early, Simone Malbrook played cautious basketball for some 14 minutes and although her husband-coach Michel Malbrook relegated her to the bench for a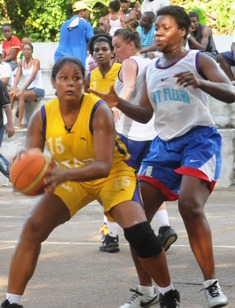 while, she did what she does best when she returned to the floor: grab offensive and defensive rebounds, and score. The centre also made some assists as Anse Etoile Stars beat Mont Fleuri 67-46 in their last second-round fixture.
Malbrook got 19 points to finish as joint top scorer with teammate Dynah Louis who also nailed two shots from downtown.
Lucia Souffe added 12 points in the Stars' eighth win in as many games for 16 points and the defending champions now have their eyes set on finishing the championship unbeaten with four more games in the third round.
Bernadette Songor was the only player in double figures with 10 points for Mont Fleuri who made several attempts to make a comeback when Simone Malbrook wasn't on the floor, but they came up short.
The defeat is Mont Fleuri's second in six games and they are currently second in the five-team standings with 10 points.
Meanwhile, HotShots consolidated second place with 14 points with six wins in eight games after they did not have to sweat to earn two points thanks to a win by walk-over against RA Sisters.
PLS Hawks 102 … Angels 61
Power forward Neddy 'Oye' Fanchette was on fire on Saturday, scoring a game-high 30 points to help men's division one league champions PLS Hawks reach the century mark for the third straight match with a 102-61 victory against Angels .
Wilby Domingue poured in 15 points, while captain Bernard Bristol and Nigerian Alao Solomon added 10 apiece in Hawks' 13th win on the trot for a maximum 26 points.
PLS Hawks' coach Alix Allisop told Sports Nation "my team are aiming to finish the championship unbeaten as planned since the start of the year."
Eddie Armand had the hot hands for Anse Boileau-based Angels with 21 points, while Barry Dubignon added 14 and Franky Sultan 12.
Premium Cobras 66 … Mont Fleuri Dawgz 60
With his brother Abdel Sylla – the professional centre who plays for Nancy in the French Pro A – in the stands, big brother Amadou Sylla put on another stellar performance with a series of blocked shots and finished with a game-high 22 points as Premium Cobras rallied to beat Mont Fleuri Dawgz 66-60.
After the Dawgz had rushed to an early 8-2 lead, the Cobras slowly crept back into the game and even won the first quarter 25-18, but trailed by five points at half-time as they were outscored 20-8 in the second quarter.
The Cobras then switched to a match-up zone defence in the third quarter and this strategy, chosen by coach Peter Bresson, a former Seychelles international, allowed them to break down Dawgz' play and gain possession which they turned into baskets to win the second half 33-22 (15-8 and 18-14) for a 66-60 victory.
Power forward Dominic Pillay chipped in 15 points in the Cobras' eighth win in 11 games for 19 points, while centre Brian Agricole got 13 points and Kevin Romain 12 for the Dawgz who have a win-lose record of 9-3 in 12 matches for 21 points.
RC Dynamics 81 … Cascade Bullets 65
Emmanuel Jupiter (21 points), Emmanuel Larue (20 points) and James Joubert (19 points) combined for 60 of RC Dynamics' 81 points in an 81-65 win over Cascade Bullets.
Kenneth Domingue added 12 including a trey for Dynamics who celebrated only their second win in 12 games for 14 points.
Christopher 'Toto' Camille's 19 points went to waste as tailenders Bullets lost for the 12th time in 13 games.
MBU Rockers 79 … Drifters 41
MBU Rockers rebounded from their heavy 59-101 loss to PLS Hawks the previous weekend, with a 79-41 victory against lowly Drifters on Saturday to bring their points tally to 19 in six wins out of 13 games.
Keven Morel poured in 20 points, Pascal Bibi added 18 including a 3-pointer and Daniel Hoareau chipped in 13 for the Rockers who won three of the four quarters 22-8, 18-5 and 24-13. They were tied 15-15 in the second.
Arnaud Arissol finished with 13 points for Anse Boileau-based Drifters who have just three victories in 12 games.
G. G.