Ports authority pledges support for seafarers
17-August-2012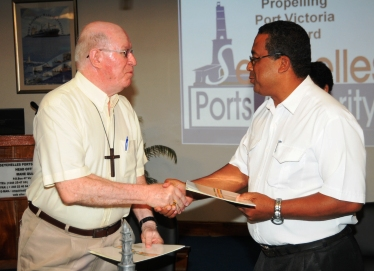 A memorandum of understanding (MoU) to that effect was signed recently between SPA's chief executive Lieutenant Colonel Andre Ciseau and Catholic Bishop Denis Wiehe on behalf of the organisation, which falls under the Diocese of Port Victoria.
The signing ceremony took place at the SPA conference room at the New Port in the presence of the SPA board chairman Philippe Michaud and Apostolat de la Mer representative Albert Napier.
According to Lt Col Ciseau, the agreement is in line with SPA's corporate social responsibility.
He noted that very often there have been incidents of boats stranded in Seychelles, and when that happens it is very difficult to find accommodation for the seafarers.
"It can be a real hardship for the crew of a boat which is stranded here, and for now there is no such facility in Seychelles to cater for them," he said.
"We are helping the Apostolat de la Mer to develop their capacity, and also with financial assistance to buy a plot of land from the government, and also technical assistance from our project office and economist, so that when their project centre gets off the ground it can be a relief for those who find themselves stranded in Port Victoria," he said.
In the past, when such incidents happened, seafarers had had to stay on board their boat, but this was not always possible. That was when the Apostolat de la Mer had stepped in and worked on getting donations and assistance to put up seafarers at hotels or other tourist establishments, a move that Lt Col Ciseau said was very costly.
"With the new centre, they will be able to have somewhere to stay until they can go back to their families," he said.
"We pledge our support so that this association can better serve the maritime community in Seychelles."
After all the signing was done, Bishop Wiehe joined Lt Col Ciseau in cutting a cake in honour of the occasion.