Rotary Club finances two long-distance scholarships
18-August-2012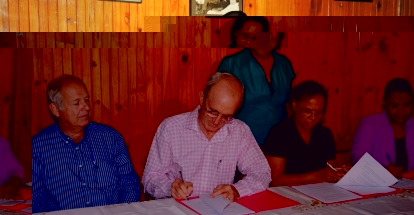 A memorandum of understanding was signed at the Ministry of Education's conference room last week by the two parties.
The Ministry of Education was represented by principal secretary Merida Delcy and Marie-Claire Henriette, director for the Adult Learning and Distance Education Centre (Aldec), and signing for Rotary Club was its president Roland Rassool. Also present was the Rotary director for vocational affairs Dr George Panovsky and the immediate past Rotarian president N. Raghvani.
Under the three-year agreement, the Rotary Club will finance post-graduate long-distance studies for teachers Georges Nicette and Andre Servina for a minimum two years.
Mr Nicette will study social and educational research, while Mr Servina will study administration in education.
At the end of the signing ceremony, Mr Rassool said the Rotary Club always enjoy a close collaboration with its partners and looks forward to future collaboration.
Mrs Henriette thanked Dr Panovsky, whom she said has been instrumental in getting the club to sponsor the studies for the two teachers.
"This gesture shows the interest and willingness of the club to enter into partnership with the Ministry of Education through Aldec, to help in the professional development and career advancement of its staff," she said.
Mrs Henriette also appealed to other organisations to come forward and engage in similar capacity-building projects with the ministry.
In the absence of Mr Servina who is working on another island, Mr Nicette thanked all those who have made such an initiative possible, and said it would be a great benefit to them in their work.
Mr Rassool said that 20% of the funds they collect go to a fund called the development fund, which is used to finance such projects.
This is the second time that the Rotary Club has signed such an agreement with the ministry.