Seychelles delegation at Miss World 2012 in support of Sherlyn Furneau
18-August-2012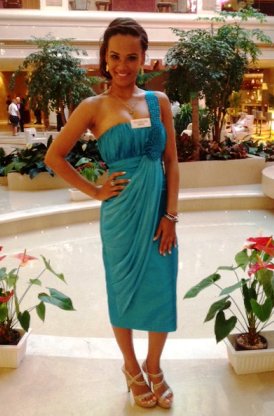 The delegation, which left on Wednesday August 15, comprises STB chief executive Elsia Grandcourt, STB's events and convention department manager Marymonde Matatiken and her senior events and convention coordinator Sharon François.
They will be joined in Ordos by the Seychelles Ambassador to China, Philippe Le Gall, and Jean-Luc Lai Lam, the STB's representative in China.
This year's Miss World 2012 event is being contested by 116 world beauties, all of whom are vying for the prestigious and coveted crown of the beauty pageant.
Apart from tonight's grand final which will take place at the Ordos Stadium Arena, the pageant includes various other competitions and challenge events, such as the Designer Award, Beach Fashion, Sports and Fitness, Performing Talent, Top Model, Multimedia Award and Beauty with a Purpose.
Ms Sherlyn Furneau has been part on the Miss World 2012 journey since July 16 when she left Seychelles for the pageant. From the start, she has been turning heads with her beauty and charismatic personality. Fans from Seychelles and across the world have been behind her and supporting her involvement in the Miss World 2012.
"The support behind Miss Seychelles...Another World 2012, whether from families, close friends or acquaintances, is just remarkable," said Mrs Grandcourt.
"Every single Seychellois, be it at home or overseas, is rooting for Sherlyn, seeing her take part on such a huge platform that will not only raise the profile of the Seychelles but more importantly of Miss Seychelles...Another World 2012 as the individual who has for these past four weeks got the world to focus on her development," she added.
The Miss World 2012 final, which will debut with a spectacular choreographed opening, will be broadcast live to an audience in excess of one billion viewers in over 160 countries, according to the organisers.
Locally, viewers will be able to watch the pageant, broadcast by the Seychelles Broadcasting Cooperation, today at 3.30pm local time.