Basketball: National League-Stars whip Juniors to close in on title
21-August-2012
With one round of matches remaining in the three-round league, Stars are the number one favourites to win the title after registering a 100% winning streak throughout the first two.
In case of defeats against rivals HotShots and Mont Fleuri in the third round, the girls of coach Michel Malbrook will still add another piece of silverware to their collection. They can only lose the title if they lose by walk-over.
In Saturday's match, Stars dominated all four quarters – 24-7, 13-0, 28-4 and 26-8 – with young Jana Malbrook contributing 23 points to lead the scoring.
Coach Malbrook praised his young players for their perfect league campaign so far this season. He explained that the youngsters have brought more options to their game and allow the more experienced players to take a break and recover during matches.
He added that they are still adopting a strict training programme and this will go on until they win the league title. After that, they will attempt winning the Seychelles Basketball Federation (SBF) Cup for back-to-back doubles.
Stars have now garnered 18 points from nine victories in as many matches.
Winless Juniors stay at the bottom of the table on eight points.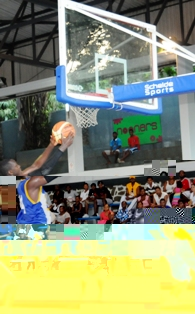 In the men's division league, Premium Cobras have moved up to the second place on the table following their 97-66 win over Baya. Cobras won the first two quarters 22-16 and 22-17 for a 44-33 half-time lead. In the second half, captain Amadou Sylla and company switched to a stronger gear, dominating the last two quarters 28-17 and 26-16 to outpace Baya 97-66 at the final whistle.
Sylla and Dan Côme scored 21 points apiece to lead the scoring for the Cobras, while captain Timmy Adam was Baya's top scorer with 23 points.
Cobras now have 21 points from nine wins and three losses, while the defeat – the fourth in 12 games – has left Baya in fifth position on 20 points.
In the Anse Boileau derby played during the weekend, Angels outscored Drifters 85-73, bringing their points tally to 17. After five wins and seven defeats they are now sixth on the table.

Barry Dubignon was Angels' leading scorer with 20 points – the same total achieved by Drifters' top scorer Arnaud Arissol.
As for Drifters, they are occupying seventh spot on the league table. They have 16 points from three wins and 10 defeats out of 13 matches.
Mont Buxton-based MBU Rockers were also among the winners during the weekend. They defeated RC Dynamics 85-69, bringing their points tally to 21 after seven wins and seven defeats.
Pascal Bibi contributed 31 points to finish as Rockers' leading scorer, while Emmanuel Jupiter led Dynamics with 20 points.
Rockers are now in fourth spot, while Dynamics are eighth on 15 points from two wins and 11 defeats.
Meanwhile, in the men's league division two, leaders Praslin Warriors collected a win and a loss in their two away matches played at Victoria Gymnasium.
In their first match on Saturday, the Warriors lost 55-67 to second-placed Beau Vallon Heat, while on Sunday they beat Juniors 76-36 to maintain top spot with 21 points from nine wins and three losses.
R. D.