'Miss World an amazing experience,' says Sherlyn Furneau
22-August-2012
She said this during a press conference yesterday at the Seychelles Tourism Board (STB)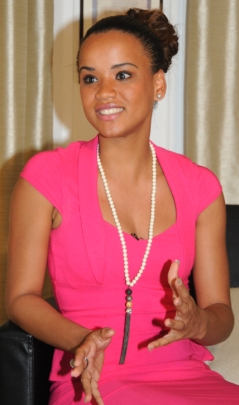 headquarters at Bel Ombre after returning from the pageant held at the Ordos stadium arena in inner Mongolia, China on August 18.
STB chief executive Elsia Grandcourt was also present.
Miss Furneau said that during her five-week stay in China with the other contestants, they visited many places and made friends.
"All the girls were unique in their own ways and we got the chance to exchange cultures and opinions on several issues," she said.
Miss World has brought us together and touched us all as well as develop our characters to help us become more independent and strong individuals, she added.
"We were engaged in several activities such as sports, modeling, performing talent and dances of the world."
She said she took part in all these events and did her best even though only some girls were chosen for the finals.
Miss Furneau said she is also proud to have come out fifth in the world for people's choice.
She thanked everybody who has given her the support and said now that she is back home, her next step is to carry on with her duties as Miss Seychelles ... Another World 2012.
"I will work with children of orphanages as well as with the tourism board to represent Seychelles as an ambassador locally and internationally.
Miss Furneau took the opportunity to encourage young ladies to take part in the next Miss Seychelles … Another World pageant and to make the most of such an enriching experience.
Mrs Grandcourt said they supported Sherlyn all along and that she will now take part in international trade fairs with the STB.
"We have the world travel market in the United Kingdom coming soon and this is a platform where she will be accompanying us," said Mrs Grandcourt.
Among other events that our beauty queen will actively be involved in are the Creole Festival and the Seychelles Ball as well as other activities until she crowns the new Miss Seychelles … Another World, added Mrs Grandcourt.
The Miss World 2012 title has been won by Miss China, Yu Wenxia, followed by Miss Wales, Sophie Moulds, and in third place Miss Australia, Jessica Kahawaty.