Volleyball: National league-Friends and Cascade win as competition electrifies
22-August-2012
Both Friends and Cascade registered victories in their last encounter, bringing their points tally to 31 after 10 wins and a loss respectively.
Friends top the standings thanks to a superior set difference of + 26 – 32 for and six against – compared to Cascade's +22 – 32 for and 10 against.
Friends, the winners of the last league championship in 2010, took 63 minutes to beat Praslin Volleyball Club (PVC) 3-0 (25-11, 25-23, 25-8), while Cascade came from a set down to beat Juniors 3-1 during their weekend matches at the Palais des Sports. The set scores were 25-27, 25-21, 25-13 and 25-11.
The defeats kept Juniors and PVC fifth and sixth respectively. Juniors have accumulated 21 points from five wins and six losses in 11 matches. They have 19 sets for and 21 against. As for the Praslin-based PVC, they are on 17 points with three wins and nine defeats, and have 11 sets in their favour and 30 against them.
Following the weekend's matches, La Digue have now been relegated to the third position with 30 points from nine wins and three losses. They are five points clear of fourth-placed Arsu who are on 25 points after registering seven wins and four losses. OSC Comets are seventh on 13 points with a single win and 10 defeats, while Santa West are carrying the weight of the league table with 11 points from 11 defeats.
Cascade and Friends will meet in the second round on September 8 which could well be the title decider. Cascade's other matches are against La Digue and OSC Comets, while Friends are yet to play Arsu and PVC in the second round of matches.
Friends' only league defeat this season was on a 2-3 score against Cascade, while the latter's only loss was against La Digue by the same score.
In the only women's league division two match played during the weekend, Island Girls defeated St Louis Bombers 3-1. The set scores were 25-13, 18-25, 25-16 and 26-24.
Island Girls are currently third on the league table on 27 points from eight wins and three losses, while St Louis Bombers are fifth on 23 points after five wins and eight losses.
In a men's division bottom-of-the-table clash, fourth-placed Juniors beat Cadets 3-0 (25-19, 25-21, 25-18) after 61 minutes of play.
Juniors now have 17 points after four wins and five losses, while the defeat kept Cadets at the bottom on 12 points with nine losses and a single win.
-----------
Women's division one league table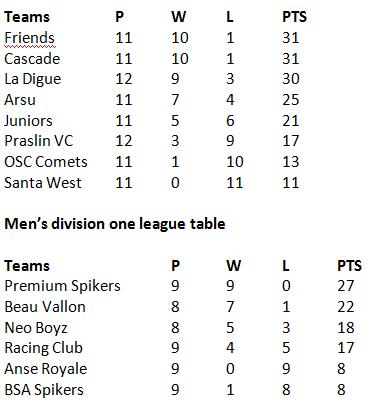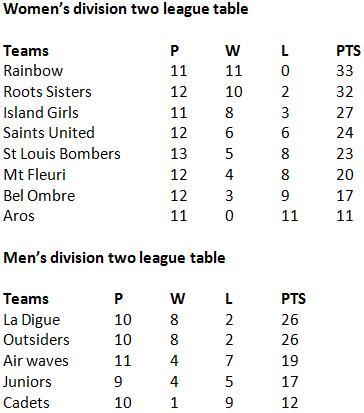 R. D.