Japanese training squadron on historic visit to Port Victoria
23-August-2012
Three naval vessels – flagship Kashima, training ship Shimayuki and an escort Matsuyuki – are berthed at the commercial port and will remain for three days, leaving early Saturday.
On board are 754 crew members, including 196 junior officers, a fair share of them women.
Present at a welcoming ceremony soon after the squadron's arrival yesterday morning were former President James Mancham, the Minister for Home Affairs and Transport Joel Morgan, the Minister for Environment and Energy Rolph Payet, the Chief of Defence Forces, Brigadier Leopold Payet, and several ambassadors.
The Japanese ambassador to Seychelles, Toshihisa Takata – who is based in Nairobi – was also present to welcome the squadron in Port Victoria.
He said that having left Japan in May, the squadron has called in Manila, Bangkok, Mumbai, Bali and Djibouti before arriving in Port Victoria. From here the vessels will be heading for Dar Es Salaam, before calling at Jeddah and Oman.
He noted that the visit is historic, since it is the first time that the squadron calls at Port Victoria in its history of over half a century.
Mr Morgan – who later inspected a guard of honour aboard the Kashima before the guests were taken on a conducted tour – hailed the port of call by a "world class fleet".
He noted that during the three-day visit, the Japanese naval officers and military will be undertaking training sessions with the Seychelles coastguards.
Mr Morgan said that Japanese-Seychellois collaboration has been in many fields, but mainly benefitting the fishing sector.
Japanese assistance has funded the construction of fishing quays and fish storage among others.

Many Seychellois have also benefitted from various long and short-term training in Japan in fields as varied as health, conservation and waste management.
Mr Morgan also noted that Japan has proved to be an invaluable partner of Seychelles in the fight against piracy.
Japan has set up an anti-piracy base in Djibouti and is also contributing to the United Nations Office for Crime and Drugs (UNOCD) and other agencies.
Rear Admiral Hidetoshi Fuchinoue said he and his officers considered it an honour to be in Seychelles. He said the aim of the voyage is to enable the 196 young officers of the Japan Maritime Self-Defence Force to acquire necessary navigational skills and knowledge.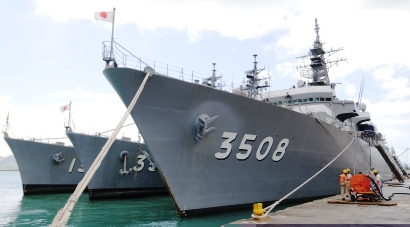 Later yesterday evening, the Rear Admiral hosted many guests to a reception on board the Kashima to commemorate the historic visit by the Japanese Training Squadron.