Campaign launched to conserve energy
25-August-2012
The campaign, an initiative of the newly set up "Eco Youth Forum", headed by Tony Immaduwa, is targetting key audiences, notably decision makers, who will come up with the necessary legislation on ways of saving energy; schools, to arouse the interest and enthusiasm of the youth and importers, to bring in more energy saving electrical appliances.
The campaign is also taking on board the hotels, which are heavy consumers, in a bid to get their staff to be more energy efficient as well as the media which will relay the knowledge to the general public.
Mr Immaduwa noted that a core team, representing the Ministry of Environment and Energy, Seychelles Energy Commission, Public Utilities Corporation (PUC) and Sustainability for Seychelles (a non-governmental organisation), have given their full backing to the campaign.
He said that since Seychelles is depending 100% on fossil fuel for its energy, the cost of which is steadily going up, it is in everyone's interest that we use it efficiently to save money and live better. Hence, the slogan : "Lenerzi, Servi Byen, Viv byen".
At the launch, there was an exhibition of various energy saving technologies. At one of the stands, run by PUC, consumers could exchange their old incandescent bulbs for CFL or energy savers.
Few of us realised, until this exhibition, that flatscreen television uses less energy than tube sets and also that laptops were far more efficient than desktop consumers.
A form for an "Energy Efficiency Survey" covering dwellings, were distributed at the exhibition.
Launching the campaign, Environment and Energy Minister Rolph Payet said that by inviting people to live well, enjoy life, "Viv byen", we are enticing them with the vision of a more sustainable world - where our efforts to use energy efficiently help ensure that we continue to have access to it.
He added that it also captures the idea of a cleaner, less polluted world, weaned of the fossil fuels that contribute to climate change.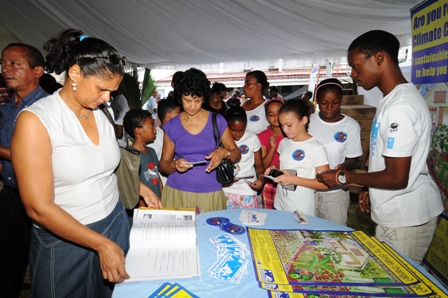 "A national educational campaign, such as the one being launched today, is sorely needed to engage Seychellois and other residents that we need to use energy efficiently. "

"We are all guilty of wasting energy. Sometimes we know it and we still do it! Sometimes, we waste energy unwittingly, lacking the information that would help us lower bills. At home or at work, we leave appliances on standby. Craving for cool air, we crank our air cons down to freezing temperatures. We forget and leave lights and fans on when not in use. We put off buying those CFL bulbs to replace the incandescent ones."
Prof Payet said in some cases, where people don't know where they are wasting, the campaign will help them identify key practices they can change in order to make a difference.
He added that to make the campaign work, what other countries have done, was reviewed and worked on to develop an effective campaign well suited to our own cultural context.
"We have drawn upon locals to help us plan the campaign. Many stakeholders took part in the workshops to develop the strategy and their contributions have been invaluable. We have worked with local musicians and artists to help us develop an innovative campaign," Prof. Payet said.