Miss World 2012-Crowning ceremony stunning, says Seychelles delegation
25-August-2012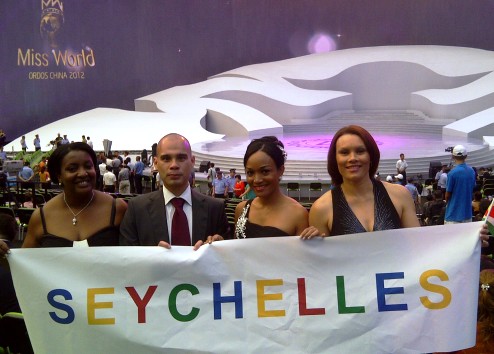 The Seychelles delegation at Miss World 2012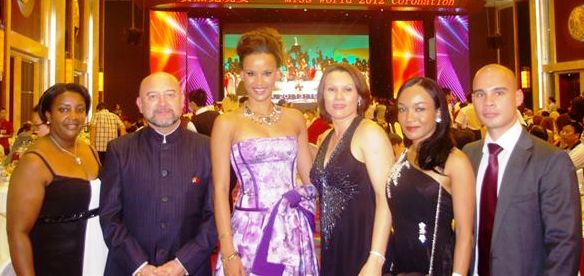 The delegation comprised Seychelles Tourism Board (STB) chief executive Elsia Grandcourt, Seychelles ambassador to China Philippe Le Gall, STB's events and convention manager Marymonde Matatiken and events and convention senior coordinator Sharon François and Seychelles' tourism representatives in China Jean-Luc Lai Lam and Huanhuan Li.
The Miss World 2012 grand final took place on Saturday August 18 at the Ordos stadium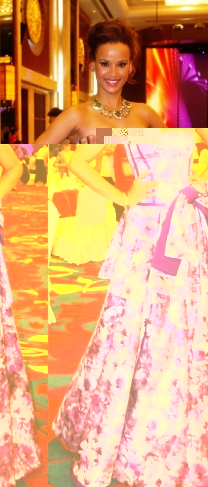 arena with a record 116 competing world beauties. It ended with a coronation ball where guests of the pageant were able to enjoy the Chinese cuisine.
"With our Seychelles banners and flags in our hands, we went all out to give support and encourage Miss Seychelles ... Another World 2012 Sherlyn Furneau who contested on such a big platform as Miss World," said Mrs Grandcourt.
"Sherlyn has made the whole of Seychelles proud by taking part in Miss World 2012 and has been a wonderful ambassador throughout. She has been incredible and we wanted to make sure that on the big day she had the support of her country," added Mrs Grandcourt.
She has also expressed STB's sincere appreciation for Miss Seychelles ... Another World 2012 supporters, in particular the sponsors who made Ms Furneau's participation possible and fans who encouraged and rooted for her during the whole of the event.
"The support Miss Seychelles ... Another World 2012 has received locally and internationally has been impressive and for that we would like to thank everyone who in one way or another came forward to support Sherlyn," added Mrs Grandcourt.
The delegation's experience of Miss World 2012 has also been an opportunity for it to learn more of world pageants so as to make Seychelles' own beauty pageant – Miss Seychelles ... Another World – even better next year.