Local firms to gain from €5m EIB loan
27-August-2012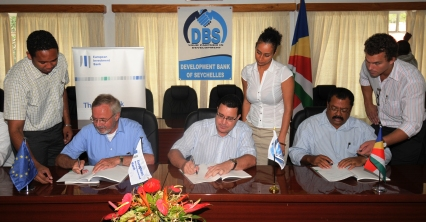 Finance, Trade and Investment Minister Pierre Laporte and the bank's president Werner Hoyer along with the chief executive of the DBS Roger Toussaint signed an agreement for the loan on Friday at Liberty House.
The loan will be matched by the same amount from the DBS, they said, adding the EIB has worked closely with the DBS to address challenges facing private sector investment in the region.
"Loan funding will be available in local currency and target small companies and start-up entrepreneurs. This initiative will be supported by technical assistance to help the Development Bank of the Seychelles' continued efforts to modernise its governance, credit risk management and financial monitoring," they said.
Past EIB funding for small business in the Seychelles was said to have helped create more than 800 new jobs in 48 firms active in the tourism, manufacturing, fishing and storage sectors.
Mr Hoyer is currently visiting a number of projects in small island states and was scheduled to meet Vice-President Danny Faure and Foreign Affairs minister Jean-Paul Adam to discuss EIB activities in the country as well as seeing first-hand how past EIB funding has supported small business investment.
Mr Hoyer will also meet Environment and Energy Minister Prof. Rolph Payet and visit the Providence desalination plant funded by the EIB.
Earlier this year the EIB agreed to provide 27m euro for investment to improve water and sanitation in the country. This includes funding for planned upgrades to the island's water network to reduce leakages and help secure year-round continuity of supply, and new sewer facilities to reduce risks to the environment and health.
The funding will help the Seychelles Public Utilities Corporation (PUC) to better manage water shortages through expanding water supply on the three main islands and reduce water loss, improving energy efficiency and increasing resilience of water supply to an increasingly uncertain climate and less predictable rainfall patterns.
Upgrading of existing sewage facilities on Mahé and construction of new sanitation infrastructure on La Digue will reduce the risk of the contamination of groundwater used for drinking and environmental risks.
The scheme will also contribute to improving environmental and natural disaster risk management, and overall water management through technical support and training with PUC.
The EIB has funded the installation and operation of the first submarine fibre optic cable for international connections to the Seychelles.
Mr Hoyer on Friday visited the landing site for the 1,930km cable from Mahé to the existing Eastern Africa Submarine Cable System in Tanzania.
The European Investment Bank has been active in Seychelles since the first credit line to the DBS was agreed in 1978. Since then EIB funding and technical assistance has supported private sector investment, water infrastructure and improved communications.