Arts Festival 2012 -Students hone skills in poetry writing
28-August-2012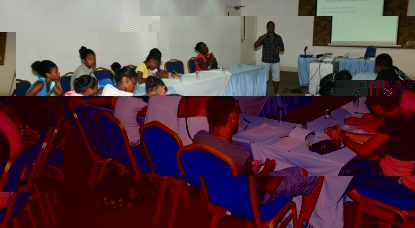 This is being held at the International Conference Centre and is part of activities for the week-long Seychelles Arts Festival 2012, which has already started but will officially be launched on August 30.
The students taking part are aged 12 to 15 years and come from schools like Anse Royale, Beau Vallon and Plaisance.

The workshop, which will last for 4-5 days, is being led by Reuben Lespoir and Margaret Pillay.
Speaking to Seychelles Nation yesterday afternoon, Mr Lespoir said they are teaching the students the basics of poetry writing.
"We are now teaching them how to improve their writing for poetry but also in general. They are learning what poetry is, the various techniques used in poetry writing, types of poetry like shaped-poems, limericks, free verse, haiku and others," he said.
"We are also teaching them proper terms to use in poetry, for example, using the word poet for someone who writes poetry, ontology, stanza, verse, lines and so on."
The students will also learn to have a critical eye for poetry, and will develop skills in critically analysing their own work, as well as the work of their colleagues.
"We want them to appreciate and also learn about both local and foreign poetry," said Mr Lespoir.
"Although nothing is definite, if all goes well, we will look into the possibilities of having a small exhibition or even have the students' work displayed at their schools."

He added that although there is a high ratio of girls to boys, all the students are motivated and have done good work so far and thanked the National Arts Council for providing all the materials needed to make the event develop smoothly.