Basketball: National League-Sylla's monster slams in Cobras' blow-out loss to Hawks
28-August-2012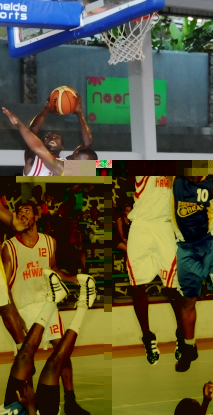 In an amazing display of athleticism and ingenuity, Sylla caught a long fast break in the air with one hand and jumped over his defender Neddy 'Oye' Fanchette before slam dunking the basketball. There were no other major storylines in this match, only that the Hawks could not reach the century mark for the fourth straight game but still won by double digits in a blow-out – 90-56 – in Saturday's double-header at Victoria Gymnasium.
Before fouling out in the fourth quarter, Sylla scored 11 points and got help in offence from Dan Côme (14 points) and Steven 'Speedy' Servina (12) but these statistics were barely enough against a Hawks team who are firing on all cylinders as they attempt to retain their championship crown with an unbeaten record.
Centre Rodney Lozé came off the bench to lead all scores with 25 points, while Fanchette added 16 and Nigeria Alao Solomon 14.
In Saturday's other double-header, Baya finished with just four players after three others – captain Timmy Adam, Liston Reginald and Faizal Naiken – had fouled out, but they still beat Mont Fleuri Dawgz 79-66 to avenge their first-round 62-83 loss.
Captain Adam and shooting guard Steve Denis finished with 17 points apiece to carry their team to a ninth victory in 13 games for 22 points – the same total as Premium Cobras and Mont Fleuri Dawgz. All three teams have identical win-lose records of 9-4.
With a stretched line-up, coach Michel Malbrook will be without another of his top players for at least the next six months after he refused to take a drugs test on Saturday.
Steven André had the hot hands for the Dawgz with 22 points, but his double digit scoring performance was to no avail as his team lost.
Big men Emmanuel Larue (28 points) and Emmanuel Jupiter (24) combined for 52 points to help their team RC Dynamics overcome a 13-point – 28-41 – half-time deficit and outscore Angels 59-35 in the second period for an 87-76 win, bringing their points tally to 17 after three wins and 11 defeats in 14 games.
Angels are on 18 points with five wins and eight defeats and they were paced by Dominique Françoise with 23 points and Chabel Servina chipped in with 17.
Playmaker and captain Nigel Sinon carried MBU Rockers to a 72-65 victory over Cascade Bullets, while teammates Pascal Bibi added 14 and Daniel Hoareau got 10 for their eighth win in 15 games played.
The Rockers built their victory in the first half which they won 36-28, while the Bullets, who got 23 points from playmaker Christopher 'Toto' Camille and 11 from Sandy Julienne, won the third quarter 19-18 and tied the Rockers 18-18 in the fourth as they slumped to their 13th defeat in 14 games.
In the women's league, Anse Etoile Stars were too strong for RA Sisters as they ran away with a 78-44 win – their 10th in as many matches for 20 points.
Jana Malbrook top-scored with 22 points and her mother Simone Malbrook added 14 to help the Stars close in on retaining their championship crown.
Katrina Morel scored 13 points and Veronique Loizeau added 11 for RA Sisters who suffered an eighth defeat in 10 games.
Centre Tina Agathine finished with 28 points and Jenita Toussaint added 11 as HotShots beat Juniors 113-34 for their sixth win in 10 matches.
Laura Françoise netted 16 points and skipper Sarah Rose 12 in Juniors' 10th loss in as many matches.
Meanwhile, in a men's bottom division, Razors edged AAP Brothers 57-55.
G. G.