Trades tax cut to ease cost of living
29-August-2012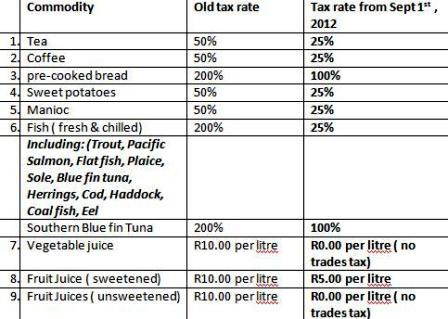 The Ministry of Finance, Trade and Investment (MFTI) announced in a communiqué yesterday that effective September 1, 2012, trades tax on various commodities will be reduced by half or more in certain cases (see the full list in the accompanying table).
At present, the majority of food items carry a 0% trades tax rate, while GST is applicable across the board.
Nevertheless GST is also exempted on a group of basic food items, namely milk power, infant formula, sugar, rice, high protein flour, sunflower oil, salt, margarine, oranges, apples, vegetables, lentils and a number of other food items especially for infants.
The reductions in tax on certain types of imported fish will benefit more directly the tourism sector.
As was announced in June this year, the MFTI is conducting further analysis to determine whether or not Seychelles should adopt the Vat (Value Added Tax). Should Vat be introduced, regulations governing this tax (published but yet in force), provides for further exemptions on specific categories of food items, as these new category of items are included on the Vat exempted list.

Examples of those items are specific types of meat, specific types of fish and bread.
"Therefore, the combined results of trades tax reductions being implemented in September 2012, plus scheduled exemptions under Vat, if and when implemented, should create a positive effect on the retail prices of these food items, hence benefitting consumers," says the communiqué.

Additionally, this reduction is part of a commitment under Comesa Free Trade Agreement, where some trades tax rates have been earmarked for reduction in 2013.
The government, through this tariff revision, has effectively brought forward some of these reductions much earlier than already programmed.
"This exercise to reduce the trades tax on other items, including non-food, will continue in 2013, pending further analysis and in line with our international trade negotiations and commitments," addas the communiqué.