Local engineers, technicians qualify to run fibre optic cable
30-August-2012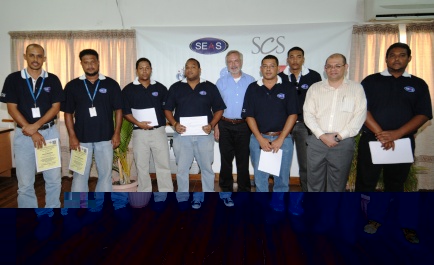 This was during a short ceremony held at the Exiles Club recently.
The ASN cable land jointing and SEAS line operation and maintenance certificates from Alcatel University in France were awarded to the engineers and technicians who had successfully completed their training as part of the agreement of the new fibre optic cable project.
European Investment Bank (EIB) president Werner Hoyer presented the engineers and technicians with their certificates before visiting the cable landing station at the Cable & Wireless headquarters in Victoria.
Also present was chairman of the Seychelles Cable Systems (SCS) Benjamin Choppy, secretary Bertrand Belle, representatives of the Ministry of Foreign Affairs, the Ministry of Finance, Trade and Investment, Cable &Wireless, EIB, Airtel and DICT.
Mr Hoyer congratulated the delegates and said the new fibre optic cable is "helping the people of Seychelles get access to immediate information at a relatively low cost."
He added that the EIB will continue to support and remain active in helping out in the future.
The cable landing station – with financial help from the EIB – cost €3 million with an overall expense of €27 million.