Football: Barclays league division two-St John Bosco delay The Lions' title charge
31-August-2012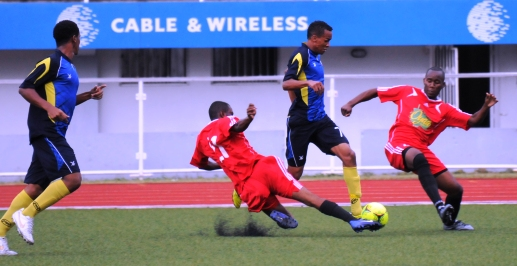 The Lions had to win to clinch the league title but they were made to wait a bit longer as they could not hold on to a first-half lead.
In fact, The Lions almost gifted St John Bosco an opening goal as early as the fourth minute as Jude Nancy played a cross-field pass which was pounced upon by Dean Mellie who did not trouble Raphael Moustache who was surprisingly chosen ahead of regular goalkeeper Jerome Dingwall.
In the 12th minute, St John Bosco's Laurel Ladouce played a long free-kick to captain Darius Quatre but he headed straight at goalkeeper Moustache.
The Lions were awarded a gift in the 16th minute from a defensive error by St John Bosco who tried to play the ball out of defence but were caught in possession and Darrel Lesperance linked up with Denis Auguste who lobbed Cameroonian goalkeeper Moutoni Bopombo to make it 1-0.
The goal changed the tempo of the game as The Lions were spurred on and in the 27th minute captain Nancy played a short corner to Randolph Lablache who picked out Darrel Damoo at the far post. Damoo though tried a spectacular bicycle kick but missed the target when he could easily have made it 2-0.
On the counter, St John Bosco nearly levelled matters from a long goal-kick to Malagasy Miandry Miandraosoavpary who headed to Jean-Paul Marguerite but his volley sailed agonisingly wide. The Malagasy striker had to be replaced minutes later as he was suffering from an ankle injury.
In the 35th minute, The Lions' Lablache went on a slalom run past three defenders but he tried to cut the ball back and goalkeeper Bopombo smothered the chance.
In the 37th minute, The Lions countered swiftly through Lablache who released Damoo but instead of going for glory he tried to set up Lablache but a retreating defender cleared the danger.
St John Bosco were rewarded for their endeavours two minutes into the second half as substitute Laurent Vel twisted and turned to lob goalkeeper Moustache who was at fault as he was way off his line to make it 1-1.
The Lions almost regained the lead in the 58th minute as Lablache burst through to fire at goalkeeper Bopombo who tipped over into corner.
The game then transcended in a battle to get the next goal but it was not forthcoming as the two teams cancelled out each other to share the spoils.
The Lions are now nine points clear of second-placed SPDF who defeated Tigers 4-1 on Tuesday.
As for St John Bosco, they are still capable of gaining automatic promotion.
R. J-L.