Pat Matyot shows 'Seychelles through foreign artists' work
01-September-2012
Staged at the National Cultural Centre, Pat Matyot presented Visions of Paradise – Seychelles in World Art to a number of guests, who included officials of the National Arts Council, local artists and other arts enthusiasts as well as students from the school of visual arts.
Mr Matyot said his presentation was a personal research project he had done some time back.
"I enjoy researching on how local artists portray Seychelles, but also how international artists do so as well," he said.
"After making good progress with my work, I discussed it with a number of people, including local artists and National Arts Council officials, and so was invited to present my work to the public."
Mr Matyot explained how artists had portrayed Seychelles through paintings, sculptures and even masks, from as early as the 19th century to a couple of years ago. One of the most prominent people he spoke about was Marianne North, who came in Seychelles in 1883.
"There are very popular paintings of coco de mer and endemic plants that she painted when she came here, although there have been many more since then, and for me it is very interesting the way they envision Seychelles," he said.
"Marianne North was more interested in plants, but more modern artists tend to put in certain personal feelings in their paintings, but use images of Seychelles."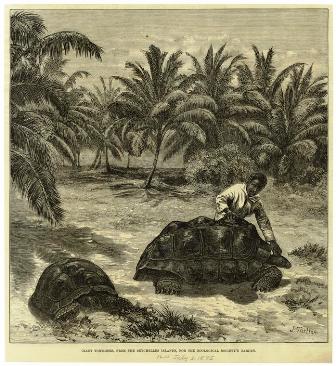 A large number of pictures, paintings and other works of art were presented in his powerpoint presentation, which came from old newspapers from many countries. The pictures also had a lesson in history, where one could see how people here lived back then, the types of houses they had, in terms of architecture and lifestyle.
The work of artists like George Gordon McCrae, Paul Gaugin, Anton Schweinberger and Nikolas Pfaff, Oomerso Mawji, Jean Rigaud, Ivy Attwell, Thai Kim-Hue, Claudia Wolfrath, and many more, in relation to Seychelles was passed on to the audience.
A good number of slides showed artists who had depicted Seychelles in their work, but yet had never even actually set foot on Seychelles soil.
The coco de mer nut was also a very prominent object seen in many paintings from many countries, where the nut had embedded itself into countries and communities' religious beliefs, culture, lifestyle, fashion and even a way of life.
Speaking about his personal favourites, Mr Matyot said he prefers works of art that has personality or the presence of the artist in it, including his feelings, compared to works that are superficial, which only have an object seen and painted on canvas.
"Personally I love the work of South African artists Allexis Preler and Walter Battiss, whose work stimulate my intellectual," he said.
And although many artists usually depict Seychelles through a rather 'standard' way – usually through painting of white sandy beaches, blue sea, giant tortoises, black paradise flycatcher and fishing boats, Mr Matyot feels that the evolution of Seychelles also needs to be captured, although the way to this should be paved by local artists.
I.H.