Seychelles inputs into region's desired health service boost
01-September-2012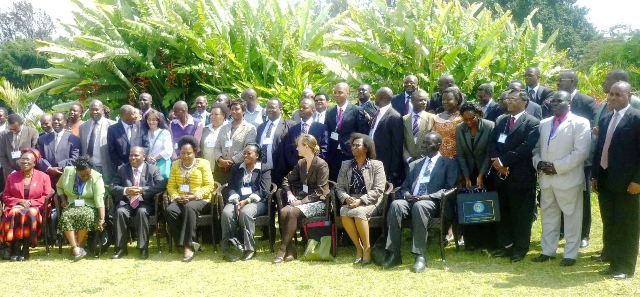 Delegates at the triangle series of experts and donors' meetings organised recently in Arusha, Tanzania by the Eastern, Central and Southern African Health Community (Ecsa-HC) suggested that one of their future meetings be held on Mahe given the impressing strides we have made in the health sector.
"The Seychellois must have done certain things right to realise the health indicators they have, and it would be worthwhile to see on the ground how, for example, the country had achieved some of the MDGs," delegates said.
They warned, however, that with health provision no country can rest on its laurels, regretting that many health centres in the region do not follow World Health Organisation guidelines for example during childbirth, leading to death or disability of mothers in the hands of supposedly well-trained doctors and nurses.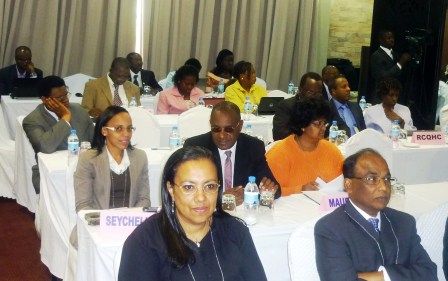 The conference began with a forum for senior journalists, during which Ecsa wanted to show the media that:
. giving birth is a serious risk for any woman – even healthy ones – and all care should be taken to cut inherent dangers.
. there are steps doctors and midwives should take to reduce bleeding that kills 38% of all women who die during or after giving birth.
. most medics do not follow these guidelines which include giving all women uterine massage, specific medicine and being ready for emergencies, adding that no centre should dare offer child delivery services if they do not have enough blood in stock.
Ecsa also showed media representatives how lack of – or poorly equipped laboratories – result in the unnecessary deaths of many patients.
Promising to look for funds for the media campaign, Ecsa asked the journalists to take up these issues, highlighting them enough to attract donor finances for projects proposed at the conference and other related ones.
There was a major consultative meeting where experts discussed the issues with a view to proposing solutions as Ecsa executives met major donors to see how countries can be helped to overcome the stated dangers.
Although Seychelles has not yet rejoined Ecsa, the organisation continues to support this country's efforts and Seychelles inputs where it can, for example through manpower and ideas.
The body's director of finance, for example, is Seychellois accountant Dr Egbert Moustache who has been instrumental in Seychelles' involvement.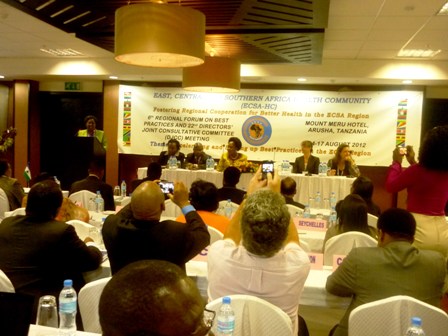 Dr Moustache holds a doctorate degree in business administration with finance specialisation, a master of business administration degree and Bachelor of Arts in accounting.
He also holds an advanced diploma in accountancy with the UK Chartered Institute of Public Finance and Accountancy and is a member of various professional finance and accounting bodies.
Since joining Ecsa-HC in 2008 on consultancy basis, Dr Moustache has spearheaded and strengthened the financial management system at the organisation's secretariat, successfully integrating a number of manually performed tasks in the computerised system for faster availability of reliable financial reports and information to suit all donor reporting requirements including the strict requirement of the United States Aid Agency (USAID).
As a person trained in USAID and other rules as well as financial management regulations, he provides financial oversight over all Ecsa projects in the region which have a potential portfolio of over US $50 million.
Dr Moustache is a key member of Ecsa management and chairs the in-house Ecsa resource mobilisation team responsible for a US$ 50 million project by USAID South Africa for the Human Resources Development in Africa initiative. The team has also submitted successful proposals to Hewlett Packard Foundation, Rockefeller and the Global Fund.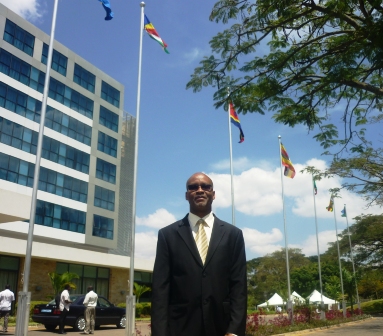 "He has gained insight in donor expectations through proposal writing and coordination of various responses to proposal, as well as submission of unsolicited proposals to potential funders," said a member of the Ecsa secretariat.
Dr Moustache has been successfully able to get his fellow countrymen invited – especially those with medical background – to take part in Ecsa-HC activities, and wishes for Seychelles to rejoin ECSA-HC in the future if conditions are right.
He is known in Seychelles as a karateka and holds a 3-dan black belt in Ashihara karate, and was an active member of the Seychelles Karate Federation before he left for Arusha.
About Ecsa-HC
Briefing Nation on the role of Ecsa-HC, he said the organisation "is a legitimate inter-governmental regional organisation established in 1974 under the auspices of the Commonwealth secretariat in London to foster and strengthen regional cooperation and capacity to address the health needs of the member states in the East, Central and Southern Africa region".
In 1980, the member states took over direct control and signed a convention establishing Ecsa Health Community as a permanent mechanism for cooperation in health with the mandate "to promote and encourage efficiency and relevance in the provision of health services in the region", in the region. Ecsa– HC currently has 10 member countries namely Botswana, Kenya, Lesotho, Malawi, Mauritius, Swaziland, Tanzania, Uganda, Zambia and Zimbabwe.
The Ecsa conference of Health Ministers, constituted by ministers of health of member states is the highest governing body. The conference meets annually to give overall political and policy guidance to the organisation, address health policy matters, review regional health strategies and programmes and define priority activities aimed at harmonising policies, better delivery of health services, and collaborative and collective health programmes at the national, regional, and international level.
Ecsa-HC's advisory committee (AC) is made up of the board of management of the Ecsa health community. It is made up of principal secretaries of the ministries of health and is responsible for overseeing the operations of the Ecsa secretariat.
The AC meets twice a year to review of work plans, performance and financial management reports and deal with staff matters.
The Directors' Joint Consultative Committee (DJCC) is the highest technical committee of the Ecsa health community and is made up of principal secretaries, directors of health services, deans of medical schools, heads of research institutions and national programme managers. They meet annually to discuss how to work together to give health services, training, research, and address issues in other technical areas relating to the health community's activities.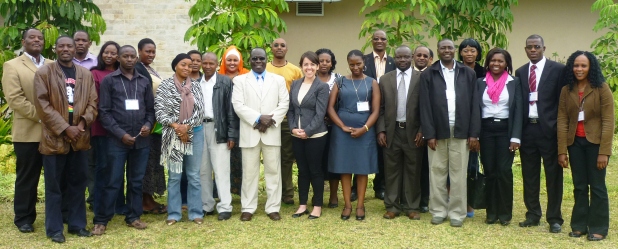 The Ecsa secretariat in Arusha, Tanzania, is the implementing organ of the Ecsa health community. The secretariat currently manages six technical programmes that aim to support member states in addressing regional health challenges in a collective and strategic manner, namely:
• Family and reproductive health;
• Food security and nutrition;
• HIV/Aids, tuberculosis and other infectious diseases;
• Health systems and services development;
• Human resources for health and capacity building;
• Research, information and advocacy
• Monitoring and evaluation
The secretariat also houses two autonomous colleges – the East, Central and Southern Africa College of Nursing (Ecsacon) and the College of Surgeons of East, Central and Southern Africa (Cosecsa). The 45th Conference of Health Ministers approved the establishment of the African Child Development Institute (ACDI) – a multi-disciplinary institution that seeks to address the needs of the African child in a holistic manner using a rights-based approach through research, advocacy and capacity-building. There are nurses in Seychelles who are members of the Ecsacon, but these are older nurses. There is still a need for younger Seychellois nurses and midwives to join as members and benefits from potential training and workshops.
To help the secretariat monitor and respond to the concerns of member states, Ecsa has established three organisational networks:
• Programme Steering/Expert Committees made up of experts and focal persons from member states to support each technical programme;
• Information Focal Persons appointed by the Ministry of Health in each Member State; and
• Country Core Group for each country headed by the Permanent Secretary.
The Ecsa – HC is recognised as one of the specialised health regional economic communities by the World Health Organisation's regional office for Africa. It enjoys close working relationships with international multilateral and bilateral and regional organisations and agencies including United Nations agencies like the World Health Organisation, the United Nations Children's Fund, the World Bank, United Nations Population Fund; UK's Department for International Development, the GTZ, USAID, Gates Foundation, International Council for Nursing, Commonwealth Secretariat; the West African Health Organisation (Waho), the East African Community, the South African Development Community and the African Union.
---------------------------------------
Rescue bid takes cherished life, endangers more

• Ecsa-HC says tragedy highlights need for laboratories
What seemed like a successful rescue of a mother by her relatives turned into multiple tragedy when she died of Aids one of them seems to have given her through untested donated blood.
As they tearfully buried the mother of two they had hoped to save, they realised they also stood to lose the donor and the husband, from the infection that now threatened to leave her children orphaned.
Fearing it may not be long before they followed the same path to the graveyard, the better informed among them wished there was a laboratory to test the blood she had so desperately needed.
Others wished the infected donor had himself been tested earlier and so avoided giving the intended single life saver that turned to be a multiple life taker.
A young journalist at the funeral fought her remorse knowing she had done nothing to highlight the need for an HIV test kit at the clinic where her now dead auntie had been treated even though medics had told her of the shortfall at the centre.

G. T.