Big interest in medical plants on open day
03-September-2012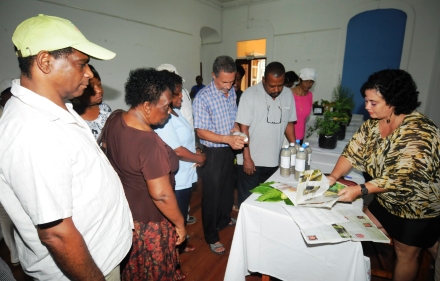 On exhibition were many plants found in Seychelles which are reputed to have medicinal virtues.
Also on display were several books on the best ways to lead healthy lives.
But, it was the Bwa torti or Noni which attracted the most attention.
The juice is derived from the tree of the Morinda citrofolia, a beautiful tree growing in Seychelles and in other tropical areas, such as Tahiti, Samoa, Tonga, Malaysia and Northern Australia.
A presentation by Marie-Andree Contoret aroused a lot of interest. She noted that the juice is a cure for a wide range of illnesses, in addition to boosting the immune system.
She said Bwa torti is a cure notably for inflammations, such as arthritis, skin rashes and even chronic conditions, such as diabetes, cancer and cardiac diseases.
The juice is extracted from the fruit when ripe, using a blender. It is then allowed to ferment in air-tight containers – to avoid contamination – in the sunlight for up to seven days.

There is usually a pungent smell, but this Ms Contoret said should be disregarded "as we should be focussing on its medical and curative virtues".
She said she has also turned the fruit into jam, but would not advise persons with diabetic conditions to do that or add any sweeteners to the Bwa torti juice, which is normally taken in doses of two tablespoonfuls or four ounces daily.
Depending on the person, it can be taken in two dosages, morning and evening. For acute cancer, up to 30 ounces can be taken daily, but this depends on the individuals.
A reference book following research on the Morinda citrifolia by Melanie Alfred, of Brisbane Australia which Ms Contoret exhibited at the open day, states that some constituents include different amino acids, glycosides, vitamins and minerals as well as sugars, including fructose and glucose.
A few of the medicinal uses of Bwa torti are for digestive problems, such as diarrhoea, intestinal worms, nausea and food poisoning. It is also good for respiratory problems, such as congestive cough, tuberculosis, infant chest colds and sore throat.

The syrup of the fruit has also helped treat asthma, dysentery, gastric ulcers and diabetes.
Research at the French University of Metz claims that the analgesic activity of Bwa torti eases many types of pain. It was found to be 75% as effective as ordinary doses of morphine.
Another well-known local herbalist, Jean-Joseph Madeleine, advised against abuse of Bwa torti or any other medicinal plant. Responding to questions, Mr Madeleine said most medication prescribed by doctors can be taken along with traditional herbal medicine.
Those present agreed when a patient is taking one kind, he or she should refrain from taking a different kind of medicine as a precautionary measure as some substances can be reactive against another, leading to undesired effects.

For instance, it is a long held belief that Aspro, a mild pain-killer, should not be taken along with Yapana, an herb used to ease stomach pains.
Various health publications, such as Healthy Body, Understanding Nutrition, Medicinal Plants of Seychelles and How to reduce and survive cancer were also on sale during the open day
There was also a special issue of the plant conservation group newsletter Kapisen, which focuses on the Seychelles National Herbarium, located in the Natural History Museum in Victoria.