School heads prepare for new term
05-September-2012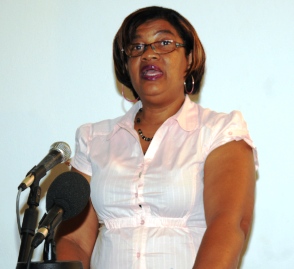 The day-long session was held at the auditorium of the School of Education at Mont Fleuri.
The aim of such a gathering was to address various pertinent issues and concerns the schools have and also give useful information through various presentations and discussions to better equip the education officials to tackle issues when they arise in order to ensure the efficient running of their respective schools.

Among its aims, such a gathering seeks to emphasise the importance to make the school a safer place for children to learn, to remind each and every one of their duties to protect and to care for the pupils put in their charge and explain further the legal framework in place for child protection.
"Our schools should promote healthy and positive relationships with the students and there should be mutual understanding between teachers and pupils," Odile Octave, the director for schools, told those present in her welcoming remarks.
She noted that as teachers with important responsibilities "we should be giving a safe and secure environment for student and as adults working in the schools, we also need to be positive role models and should help build students' characters," Ms Octave further said.
She pointed out that all students should in their own way feel they are contributing to the life of their school.
"As management teams, we have the responsibility to uphold the laws of Seychelles and protect all students from harm," said Ms Octave.
She said students learn by their mistakes and they should be guided to do better and teachers should not let the mistakes students make follow them for the rest of their lives.
Among the various presentations the school managers listened to was an overview on child protection with strong emphasis on the Convention on the Rights of the Child and more specifically on Articles 3, 4, 12, 13 19, 28, 33 and 34.
The presentation was made by child protection officer in the Ministry of Education Desirée Hermitte.
Ms Hermitte also talked about different Articles of the Education Act which highlight the role and responsibilities of children, teachers and school managers.
Ms Hermitte informed those present that at a time where schools are facing a lot of challenges from various fronts it is important for school managers and counsellors to take their responsibilities more seriously.
With regard to the various cases of abuse in numerous forms being observed in the school, Ms Hermitte is calling on school counsellors to act and make prompt reports of cases so as to better protect pupils.

Marie-Agnes Ali, a senior social worker from the legal services and child protection section in the social services division, explained how social cases are referred to her division for further investigation and action .
There were also presentations on the legal framework for child protection by the attorney general's office.
National Council for Children reps also talked in more details on the Convention on the Rights of the Child.
During the morning session three pupils from Belonie secondary school made a presentation on their projects to improve life at their school with regard to reducing social ills and substance abuse.
With their projects they took part in a competition on social ills in schools organised by the Nation Youth Council recently.