Resort empowers lifeguards to reach distant swimmers in distress
05-September-2012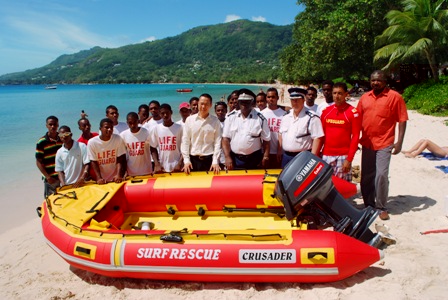 It was given to them by the Berjaya Beau Vallon Bay Resort & Casino recently.
The resort's general manager Ken Choo handed the Zodiac dinghy to director of lifeguard services Ralph Agathine in the presence of police commissioner Ernest Quatre, chief superintendent Godfra Hermitte and trainee lifeguards, in an event also witnessed by tourists at the resort.

Mr Choo said the resort has great respect and admiration for the services of the lifeguards hence it has consistently contributed to supporting the service for many years now and will continue to do so.
"We believe that safety isn't something we can take for granted.
Today we are glad to hand over an inflatable lightweight rescue boat which aims to reduce the time required to reach a swimmer in distress.
This inflatable lightweight rescue boat will be used by the lifeguards to make a rescue which is further out of the bay," he said.
"The Seychelles Lifeguards will now have improved reach further into the sea compared with the current limited swimming distance.
Lifeguard service is not just a facility for safeguarding tourist but also for all Seychellois public on the beach, which is equally important.
We observe that many Seychellois families with children enjoy themselves at the Beau Vallon beach especially on weekends so the lifeguards' presence shall benefit them as well.
Lifeguard in time of distress, we count on you. So do keep your wits about you."

On behalf of the Seychelles Lifeguard Services, Mr Quatre expressed his sincere thanks and appreciation to the resort for their contribution and continuous support for the lifeguards.
"Empowerment of our lifeguard services unit is crucial if we are to succeed in our mission of life saving at sea.
As you know, the government today invests significantly in training and equipment for capacity building so that we are able to achieve our goal of improving our service quality when it matters most.
Your resort's contribution towards the development of this lifeguard unit is a testimony of the type of partnerships which we hope to see develop more between the government and the private sector in the future, especially where our tourism industry is concerned."
"We appreciate the support from your resort and look forward to further build on such smart partnership initiatives as we have plans for further improvements to the lifeguard services at the Beau Vallon beach in the future" said Mr Quatre.
The rescue zodiac dinghy boat donation ceremony ended with a little tour test by Mr Ralph who described the boat as "fit for their anticipated operations".