Kyokushin karateka Ryan Vidot passes away
06-September-2012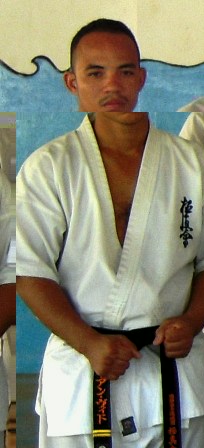 He was a member of the Kyokushin karate school for over 15 years and took part in all events organised by the school, including training camps and tournaments. He even took part in tournaments organised by the Seychelles Karate Federation.
Despite suffering from epilepsy since early childhood, Ryan would always train extremely hard, sometimes up to seven days a week, and was considered among the school's best knockdown fighters.
His most memorable fight was against local champion sensei Flavien Alphonse where sempai Vidot took him to two rounds.

Sempai Ryan trained extensively under the personal tutelage of shihan Phillip Moustache at the Young Lions Dojo and was due to undertake his 3rd dan black belt grading during the visit of shihan Kenny Uytenbogaardt 7th dan, later this year.
Shihan Kenny Uytenbogaardt, shihan Phillip Moustache and all members of the Kyokushin karate school would like to extend their sincere condolences to the Vidot family.