Academy launches online sustainable tourism course
07-September-2012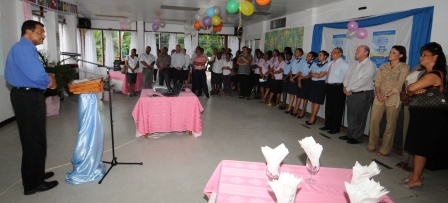 The new course – which has four units – will be offered primarily to the students following the Advanced Diploma in Hospitality course, as well as the Tourism and Tour Guiding students.
The module is part of the main STA curriculum and any student of the institution can take on the course – since it is one which can be taken at their leisure, provided they follow through – which will greatly benefit their final score at the end of the programme.

A major partner of the project is the Virtual University for Small States of the Commonwealth (VUSSC).

The course was officially launched by Tourism and Culture Minister Alain St Ange who said the STA has come a long way to be where it is today and thanked all the stakeholders, especially the Commonwealth for bringing us another step forward.
"This e-learning programme that is being set in motion today will help us achieve an objective for the country where our workforce is better trained.
The Commonwealth is a serious partner of Seychelles and for that we are thankful and wish that this partnership is maintained and developed further," he said.
The ceremony was also part of the strategy to get all the partners to meet in a relaxed atmosphere to discuss relevant matters.
Present for the occasion were a number of guests, who included special advisor for culture Raymonde Onezime, chief executive of the Seychelles Tourism Board (STB) Elsia Grandcourt and the chief executive of the National Human Resource Development Council Margaret Pillay.

Also there was the education specialist from the VUSSC John Lesperance, who said the course is for a duration of about 12 weeks.
"The subject can be taught by integration with existing courses, and although is being taught through a pilot project for now, we expect that by next year it will be fully and more widely available to STA students," he said.
Mr Lesperance added that the course is an important one, since sustainable tourism is a new emerging issue, which is being recognised more and more globally.

Course leader and lecturer in Hospitality and Management course Brigitte Joubert, said the launch of the course, in collaboration with the Virtual University for Small State of the Commonwealth is indeed an unprecedented achievement.
"An achievement especially at a time when space is limited due to construction at the academy, which will show that learning can still take place even if it's in a virtual classroom," she said.
I.H.