New look SBC TV to feature more local content
08-September-2012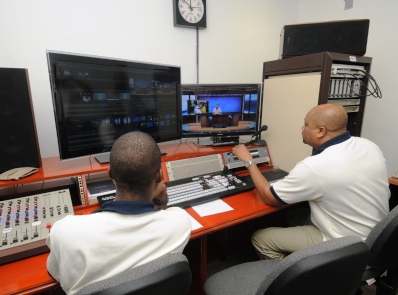 There will a new tag-line Senpleman Sesel, new jingles and generics for various programmes which the corporation's chief executive Antoine Onezime said are timed to coincide with the drive for more local content.
SBC television also marks its 30th anniversary next January.
Mr Onezime said that starting on Monday, SBC TV and radio will broadcast main news bulletin daily.
This will be done from Monday to Friday, with the exception of public holidays.
The evening news schedule remains unchanged for the time being, though efforts are being made to gradually extend the French and English news summaries, aired at 6pm and 7pm respectively, to render them more comprehensive.
But the most obvious change Sunday evening will be the new décor and music signaling the main bulletin.

It will still consist of a globe with names of our islands besides it, but has been made more striking and colourful. There will be a fleeting view of the studio, before focusing on the presenter.
The new television and radio guides have new formats.
"The presentation method has been modernised," said Mr Onezime, noting that the most advanced version of virtual technology, will allow interviews to be conducted on the "plateau" or "on location" at any one time.
Among other innovations at the SBC television is the operating of a base in Praslin, which will eventually cover other inner islands.
Mr Onezime said there is presently one journalist and a cameraman there.

And while more personnel are trained from Praslin, staff from Hermitage will still be travelling there occasionally for coverage – depending on the importance of the events.