Seychelles tourism launches website and promotional flyer in Portuguese
08-September-2012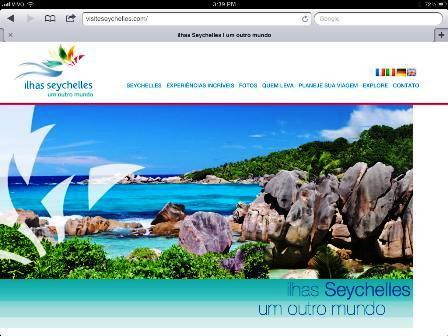 Websites are today a key tool to launch into any market and David Germain, the Seychelles director for Africa and the Americas has said the holiday destination of Seychelles has been working with key partners in South America for the last three years to open the Seychelles market.

Mr Germain said they felt it was time to now move ahead to attract the fair share of that big potential market for Seychelles.

"This is why we are now launching our website and our promotional flyer in Portuguese," he has said.
Seychelles has been actively working with South Africa where Brazilians travel in large numbers for a Big Five Safari Holiday to offer twin centre options.
"Our drive comes as Air Seychelles has announced it is increasing its weekly flights to Johannesburg to four flights per week from the existing two flights.
Our mission in Brazil was worthwhile and we have now signed up several key Brazilian tour operators to promote Seychelles and South Africa in combination.
Coined by Seychelles, the 'From the Big Five....to the Best Five slogan' will be used to promote of the islands in Brazil," said Seychelles' Minister of Tourism and Culture Alain St Ange.
He added that many cannot see themselves adopt the need to move into new markets.
"The time has come to really explore the principle of diversification.
Our traditional markets of France, Italy and the UK are producing less numbers, not only for Seychelles, but for many destinations who have depended on these traditional markets for so long.
The STB must be congratulated because it has been proactive and has moved ahead into potential markets," said Minister St Ange
He has also congratulated the STB for launching the website and promotional flyer, saying this is the way forward – being proactive and innovative.
The Brazilian economy is today faring very well and Seychelles is but one stop from Brazil via Johannesburg with South Africa Airways or via Doha with Qatar Airways and via Dubai with Emirates Airline.
All these three airlines are committed to working with the STB to get the islands more known through press trips and tour operator familiarisation trips.
It has been confirmed that a big familiarisation trip is being put together for early next year to explore the 'From the Big Five....to the Best Five Holiday' option with South African Airways and Designer Tours of Brazil.
"This is just a classic example where South Africa and Seychelles will be pushed together by a Brazilian company as a holiday option for Brazilian holidaymakers," said Minister St Ange.