Peter Pierre-Louis – Journey Into Poetry
08-September-2012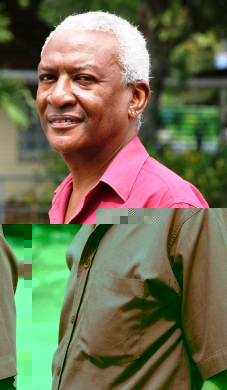 I learnt to love sound and rhythm and words through English nursery rhymes and poems in children's literature.
Thanks to Jack and Jill, and Mary had a Little Lamb, and poems by John Masefield and Walter de la Mar who cultivated the seeds of poetry in me.
Miss Eva made sure we learnt our poems by heart and every week each one of 44 students stood up and recited Me and My Shadow, The Owl and The Pussy Cat and Peter Piper Picked A Peck of pickled Pepper, so poetry filtered through our hearts, our minds and our souls, and it remained flowing in my blood to this day, to make me a poet.
And on Friday afternoons Mother Gertrude led us into song while she banged away on her old piano and our angelic voices soared up into the ceiling and sailed out the windows, as dear Mother Gertrude intended us to be.
In upper primary, Miss Edith taught us all the hymns we needed to know to praise the Virgin Mary in order to enter heaven.
However, I credit my art teacher Miss Winnie for turning me into a child poet when she asked me to write poems for the puppets we had made in art class.
How I let my imagination run wild and invented stories about each puppet as I scribbled my very first poems, and in turn, earned the admiration of both my teachers and my peers in primary four.
In the adolescent years of secondary school I wrote saccharine love poems about all the girls I had a crush on.
Then one day I wrote a poem about a Maasai warrior hunting a lion and Mr Drummond said it was brilliant and he published it in The Gryphon – our school magazine – and I graduated to a teenage poet.
My passion for poetry led me to read and study many modern poets who influenced my writing and development until I discovered postmodern poetry and became interested in contemporary issues and concerns as an outlet for poetry.
Voyaz San Valiz explores some of these issues that engage my interest and will continue in other books I hope to publish eventually.