Karting-Sponsors rewarded for their loyal support
08-September-2012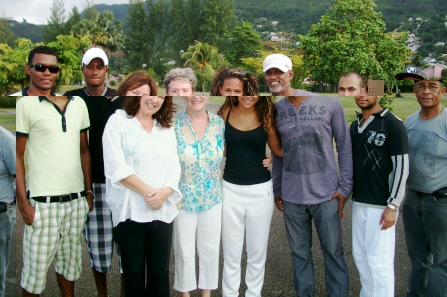 Members of staff and families had their own races, both in the men and women's category.
In the men's race, the La Scala team pipped the Boat House side for top spot with Excel Motors finishing third. In the ladies' race, the Boat House team edged La Scala for first place.
SKA chairperson Liza Rene-Cosgrow said the association is planning a similar event for those who could not attend and she also thanked all the sponsors for their continuous support.
The main sponsors of karting in Seychelles are: Seychelles Breweries, Hunt Deltel, Lifestyle Spa, Excel Motors, La Scala, Boat House, Intelvision, Teddy's Glass Bottom Boat, The Boardwalk, Acajou Hotel, Chez Marston Guesthouse, Casadani Restaurant, and Mary Anne guesthouse.
Meanwhile, round seven of the senior classes was also held last weekend with Stephan Simon (SF1), Roland Delcy (SF3), Christian Port Louis (SF4) and Bernadette Mein (SFL) emerging as winners.
Today during round eight, there will be the launch of the 'Road to the Dubai 12 hours Endurance' by the association and its main partner the Seychelles Tourism Board.
The SKA will be fielding two teams in this popular international event which will be held from October 12-13 at the Dubai Kartdrome.