Adult learners receive literacy certificates
11-September-2012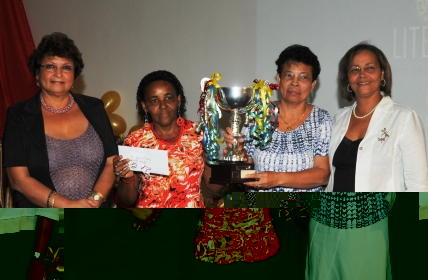 The ceremony, coinciding with the 35th International Literacy Day, took place at the University of Seychelles' School of Education at Mont Fleuri in the presence of Vice-President Danny Faure, Education Minister Macsuzy Mondon, several MNAs and the director of the Unesco Commission for Seychelles, Dr Marie-Reine Hoareau.
This year's theme for the International Literacy Day is "Cultivating peace".
Education principal secretary Merida Delcy stressed the value of literacy as both a human right and social development factor.

She noted that the courses are being offered at 19 centres throughout our islands, with some 200 participants attending.
Ms Delcy said that 35 years after embarking on courses of adult learning and long distance education, the programme is confronted with new challenges, such as climate change and social ills, such as drug abuse.
She suggested that the time has come for the programme to adapt itself to changing times and embrace such subjects as the environment.
Ms Delcy said she is happy to note that a growing number of people have come to realise that learning is a life-long experience, not confined to schools.
She said she is aware that many are now continually striving to better their knowledge and skills via the media and the internet.
Ms Hoareau read the message of Unesco director general, Irena Bokova, who focussed on the need to "cultivate peace" through more learning, at a time when various parts of the world are torn by war and civil strife.

The message noted it was telling that 40% of children who cannot read or write come from regions hit by violence.

It added that literacy can transform lives and be instruments of change for sustainable development.
One of the participants, Mathilda Brice, in a testimony said she joined the adult literacy classes four years ago and have completed three levels in English and French and is now learning maths.
She said it was a brave decision and though she was at times tired, having children to care for, she persevered.

Ms Brice is now learning IT from her children and exchanging Danielle Steele novels with her friends.

A group called "Classical Soul Vibration" -- comprising both instructors and learners -- performed two inspiring songs for those present.
Another song, "Ledikasyon i lakle", composed by Juliette Musard, was put to music by popular artist Patrick Victor and performed on stage by both instructors and learners.
During the afternoon, three long-serving teachers were presented with tokens of appreciation by Vice-President Faure for their selfless dedication.
They are Mariola Adelaide of Bel Ombre, who has served 26 years; Mary-June Ladouceur of Anse Etoile, also 26 years; and Aimée Mussard of Pointe Larue for 28 years.

The centres with the best overall performance, excelling in motivation, punctuality and innovation, were Pointe Larue, followed by Bel Ombre.

A Creole short story competition was also ran during the year and the winners were Lydia Alphonse of Baie Lazare, Mathilda Brice and Jane Agricole of Bel Ombre, and Madeleine Isaac of Pointe Larue, who all received prizes.

The main sponsors for the occasion were Jeanine Chung-Faye, Kreolor, Sacos, Qatar Airways and Marie-Claude Morel.
The adult learning classes were mostly conducted at district community centres.