Ecsa urges Seychelles to rejoin it
11-September-2012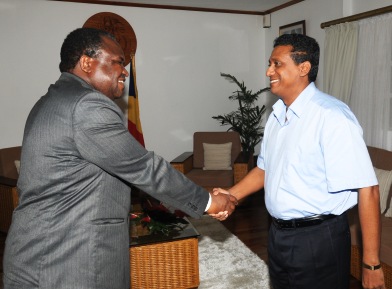 The team is led by Ecsa-HC's former chairperson, Zimbabwe's Minister for Health and Child Welfare Dr Henry Madzorera, who is accompanied by his legal adviser Foelane Muronda, Ecsa's director general Dr Josephine Mbae and the organisation's finance director, Seychellois Dr Egbert Moustache.
Yesterday they called on Vice-President Danny Faure in the company of the Seychelles Ministry of Health's director general for human resources and administration Sandra Crewe.
Dr Madzorera is here on behalf of current Ecsa-HC chairperson, Kenya's Minister for Public Health and Sanitation Dr Beth Mugo, because he initiated efforts to welcome Seychelles back into Ecsa.
He noted the organisation acknowledges Seychelles' active contribution at the organisation's forums, and also that membership fees based on a country's gross domestic product are unrealistic where Seychelles is concerned because we are a small country despite our healthy GDP.
"I am aware that all the Ecsa health ministers are sympathetic of the Seychelles situation," he said.
Saying the talks with Mr Faure were very fruitful, Dr Madzorera said having Seychelles in the organisation would help make the currently 10-nation body's voice stronger.
"Seychelles would have even more to gain because Ecsa is strong in human resources development, training and retention of health professionals as well as issues of global health diplomacy and increasing the capacity of African countries to negotiate at global forums for better deals in health," he said.
"We need to stay together and stay strong as it is the only way we can make it out there.
For example when we go to the World Health Assembly in Geneva we need to speak with one voice on all items and push the Africa agenda for which Ecsa has got tailor-made programmes for that.
"We hope next year we will start to bring together Ecsa member states to discuss the World Health Assembly agenda to make sure when we go to Geneva we have one position and we get what we want as a region."
The delegation first met the Minister for Health Mitcy Larue.