Ironman 70.3 World Championships in Las Vegas-Baldwin 18-24 years world champion
11-September-2012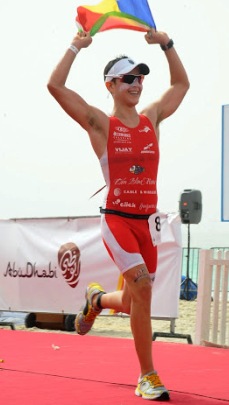 With split times of 28:44 in the 1.2 mile swimming (T1: 3:06), 2h25:18 in the 56 mile cycling (T2: 1:24) and 1h29:11 in the 13.1 mile running), Baldwin not only won the 18-24 years age group, but was ranked 35th overall including professionals.
"This is by far my greatest achievement to date. To come away as the age group world champion is an incredible feeling and it's hard to put into words just how much this title means," Baldwin told Sports Nation.
"All the hard work put in this summer and over the past six years has culminated in one of the highest accolades that an amateur triathlete can achieve.
This will give me a huge amount of confidence heading into the Ironman World Championships in Kona (Hawaii) next month, where I'll look to achieve the 'double world champion' title over twice the distance," added Baldwin who is turning professional next year.
Baldwin won the 18-24 age group title by four minutes (4:10) ahead of runner-up Michael Van Cleven of Belgium (4h31:53) and he said at no stage he was 100% confident the win was in the bag.
"The race was a brutal test of strength and endurance in extremely hot conditions over hilly Las Vegas terrain.
I started the day with a solid swim, then set up the win with the fastest bike split in the 18-24 group. I was able to hang on for the world championship title with the third fastest run," continued Baldwin.
Van Cleven was 44th overall and another Belgian, Stenn Goetstouwers, was ranked third in the 18-24 age category and 77th overall with a cumulative time of 4h37:13.
Baldwin would like to thank his "sponsors who have been a vital part of my success and without them I would not have been able to achieve this result.
"I'd like to take the opportunity to thank Eden Island Marina, Hunt Deltel, Vijay Construction and Cable & Wireless for their support," said Baldwin.
A total 1,700 triathletes took the start of the race and 1,674 – 1,075 men and 599 women – reached the finish line.
Sebastian Kienle took charge on the bike and stormed to victory in the men's professional category of the 2012 Ironman 70.3 World Championship in a course record time of 3h54:35.
The 27-year-old German was able to hold off the world's premier runners led by two-time winner Craig Alexander of Australia (3h55:36) and Bevan Docherty of New Zealand (3:56:25).
Leanda Cave of England took the women's pro title with a similar plan of action, clocking 4h28:05.
Americans Kelly Williamson (4h29:24) and Heather Jackson (4h32:32) completed the podium.
This is Cave's third world title after previously winning the ITU World Championships in Cancun, Mexico in 2002 and the ITU Long Distance World Championships in Lorient, France in 2007.
G. G.