Kerosene now sold in five-litre cans
13-September-2012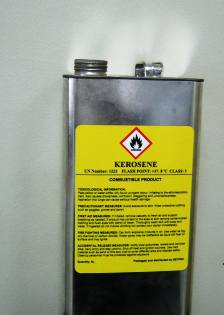 Sepec says it has taken this decision as the sale of kerosene on the domestic market has dropped by 97% over the last 15 years as a result of the introduction of LPG gas as the main source of cooking fuel.
It adds that in 1996, the daily volume of kerosene retailed was around 11,500 litres compared to only 350 litres a day in 2011.
Sepec adds that given the low sales, most the of the service stations' kerosene storage tanks of 3,000 to 15,000 litres are now heavily under-utilised.
Now that kerosene is being sold in five-litre cans, Sepec can use the storage tanks for products like unleaded motor gasoline (petrol) which accounts for 50% of sales at service stations.
This, Sepec says, will help reduce the frequency of road tanker deliveries and at the same time improve service at the stations as there will be an additional point of service for unleaded motor gasoline.
Sepec added that kerosene in the new cans can now be transported safely and is easily identifiable, thus minimising the risks of accidents.
As kerosene is a toxic and flammable product, members of the public are being encouraged to dispose of the empty cans in a safe and appropriate manner.