First-ever tourism pack for visitors
13-September-2012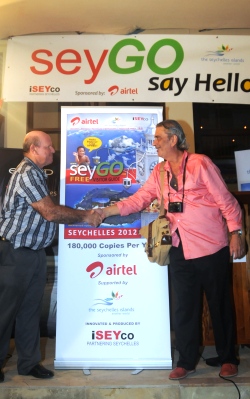 The SeyGO visitor pack was officially launched on Friday evening during a reception at Eden Island by the Minister for Tourism and Culture Alain St Ange.
Inside each pack is a 64-page SeyGO publication, which will give tourists ideas of what to do and where to go, a free map of the main tourism islands, a free voucher for entrance into the Tequila Boom nightclub, a voucher for a free drink at Eden Island's Bravo restaurant, a free Airtel SIM card with a R25 bonus of call unit, and discounts on boating and diving outlets.

As a star prize, visitors and locals, who pledge US$ 50, will also have the chance to win a trip to Aldabra every year, valued At $75, 000. the SeyGO guide will also be backed with a mobile phone application, which will keep visitors and locals alike updated regularly on upcoming events
The guide furthermore invites tourists to rate our hospitality establishments and services, so that the industry can get a better idea on how Seychelles' tourism products and services are perceived.
Also present at the launch was the country manager of the Airtel Seychelles company Vikram Sinha.
Addressing the guests at the launch, Minister St Ange said the visitor pack transforms the sometimes faceless and impersonal experience of arriving in a destination, to a whole new level of welcoming the visitor.
"The whole concept of the SeyGO pack is about offering to our visitors a gift on arrival and placing in their hands not only valuable information and tips, but some useful tools with which to better enjoy their holiday," he said.
"It is even more noteworthy because this whole novelty and innovation is the work of home-grown Seychellois company iSEYco, headed by seasoned photographer and writer Gilbert pool and digital innovator David Peter Savy, both of whom are so driven by the Seychelles brand, that their slogan is Partnering Seychelles."
He added that SeyGO provides the opportunity to get all those in the tourism trade to be in contact with all our visitors as they arrive in Seychelles.
"And I trust that the trade will rally behind this new platform and continue to make use of it," said Minister St Ange.
SeyGO publishing director, David Peter Savy said since the company first delivered the Seychelles 2020 Expo, they have been committed to finding solutions for Seychelles to move forward.
"SeyGO has been driven by a desire to give everyone in the tourism business better exposure, but also to give better and punctual information to our guests, as well as better choice and better value," he said.
"We know that the real work starts now, that real distribution, updating and continuous product innovation are necessary ingredients for long-term success of this partnership and the SeyGO visitor pack.
"We are certainly up for the challenge."
Mr Pool and Mr St Ange then unveiled the launch banner of SeyGO, officially launching the product.