Team of experts from Nepad expected soon
14-September-2012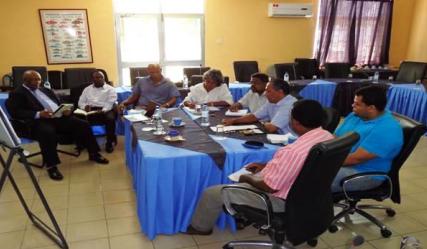 The experts will provide their technical know-how to help Seychelles move forward on its investment programme for agriculture.
This follows last week's fact-finding mission by two representatives from the same body.
Martin Bwalya, the head of Nepad's Comprehensive Africa Agriculture Development Programme (CAADP) and John Nkum, an independent consultant and leadership trainer, were in Seychelles from September 2 to 5 where they have engaged with various stakeholders from the ministries of Natural Resources and Industry (MNRI), Foreign Affairs, Finance, Trade and Investment, and other key partners to define the national priorities as basis for the investment programme.
The CAADP process was launched in Seychelles in October 2007. Following that, a steering committee was formed in March 2008 to jointly oversee the CAADP process as well as carry out the food security strategy.
It was in September last year that Seychelles became the first Indian Ocean island nation to sign the CAADP, which encourages African governments to increase national budgetary allocation to the agriculture sector.
During their mission, Mr Bwalya and Mr Nkum also met and talked to farmers so as to have an overview of the agricultural situation in the country since Nepad's last mission here last year.
The farmers took the opportunity to voice out some of their main concerns which are water shortages, favourable credit for investment in the agricultural sector, and the issue of fertile land.
Mermedah Moustache, senior policy analyst from the Ministry of Natural Resources and Industries who coordinated the visit said there is a need to work out a better sharing of water with the domestic sector.
And Nepad could provide us with technical help for a possible water use plan.
Mrs Moustache said the experts from Nepad will relook at the national agricultural policies in place and modernise them to meet the present day demands and requirements.
She noted that this forms part of the country's ongoing effort to revitalise the agricultural sector.
Nepad aims to ensure that smallholder farmers on the African continent get better access to markets, finance and technical support, in order to improve their income and get out of poverty.
It is to be noted that in line with that, within the last month, the MNRI hosted two other missions from the International Fund for Agricultural Development (IFAD) and the African Development Bank (ADB).