Ocean Exchange will have something for everyone
15-September-2012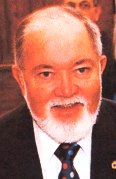 A non-profit organisation founded by Savannahians Howard Morrison and Cort Atkinson, the Ocean Exchange each year brings together representatives from industry, research, education, government and conservation to address pressing ocean issues.
Among them will be James R. Mancham, former president of the Republic of the Seychelles, an independent island nation in the Indian Ocean. While here, Mancham will address the Savannah Council of World Affairs' Tuesday meeting on "The growing geo-political importance of the Indian Ocean today."
Mancham will be joined during the week by other members of the Ocean Exchange Board of Governors, including former Irish Prime Minister John Bruton; retired Vice Adm. Peter Cairn, president of the Shipbuilding Association of Canada; Wallenius Wilhelmsen Logistics Deputy CEO Christopher Connor; Georgia Ports executive director Curtis Foltz; Swiss geographer Irene Reynolds-Schier of the Sapelo Foundation; former Under-Secretary of Commerce for Oceans Vice Adm Conrad C. Lautenbacher Jr.; Coca-Cola vice president John Day; General Dynamics vice president and former Gulfstream president Joe Lombardo; and Harvard University Senior Fellow Susan Lean.
While Wednesday's opening reception at the Ships of the Sea Museum and Friday's black-tie gala at the Savannah International Trade and Convention Center are ticketed events requiring reservations, there are plenty of opportunities — most of them free — for the public to participate, beginning today.
Savannah Morning News