Seychelles DMCs move to capture share of South America's market
15-September-2012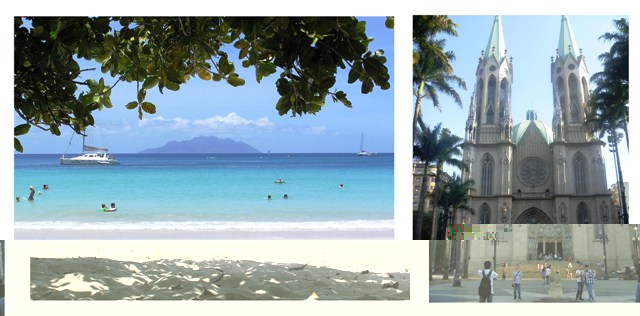 Brazil's soaring financial power has increased outbound tourism from the South American nation and tourism dependent countries are now all working hard to entice Brazilian holiday makers to their shores.
The ultimate symbol of the Brazilian extraordinary potential in travel growth has also incited Seychelles to put the right mechanisms into place to welcome Brazilian visitors.
The Seychelles Minister for Tourism and Culture, Alain St Ange, was recently in Brazil and Argentina to work with his counterparts and with the partner tour operators to unlock the potential of the markets for Seychelles.
Also present were David Germain, the Seychelles Tourism Board (STB) director for Africa and the Americas, who evaluated the potential of the Brazilian market and looked at how to build on the twin-centre approach with South Africa in order to attract Brazilians to Seychelles after a first stop in Africa.
Just weeks following this official visit in Brazil, Mr Germain was in Seychelles to meet the island's local tourism operators to generate their interest for the Seychelles move on the Brazilian market.
In recent trade meetings on Praslin and La Digue, Mr Germain announced that he had gained the support of all Seychelles DMCs to come on board to work together on the South American market.
Many of the DMCs have now appointed Brazilian representations in Sao Paolo and Argentina to promote them and they will be making their own move in that region to capture the market.
Mr Germain said air accessibility is the key factor that is opening Seychelles as a potential market for Brazil and the South American markets.
"The United Nations World Tourism Organisation has confirmed that Brazil is the next big tourism market for the upcoming five to ten years. With a population of two hundred million, 50% are the working class and they represent the segment of Brazilians spending power. Qatar Airways, Emirates Airline and South African Airways are flying to the South American destinations. In 2013 Etihad Airways will fly to this destination giving additional boost of air accessibility," Mr Germain said.
Seychelles is anticipating a growth in its honeymoon niche market segment from Brazil. According to Mr Germain "there's an ever increasing trend of newlyweds flying to exotic destinations for their honeymoon. The Brazilian honeymooners are a target market for Seychelles," said Mr Germain.
He also noted that the combination package of safari in South Africa, or a desert in Dubai combined with a honeymoon or a romantic beach holiday in Seychelles is the perfect luxury tailored holiday being proposed as the twin-centre destination packages for South American market.
For the South African market as from January 2013 the number of flights on the Seychelles-South Africa routes will increase from two to four weekly flights.
Minister St Ange said that this move will further boost the South African market potential.
"Doubling the number of seats to South Africa is a big gamble in one way, but it can be achieved if we all work together to open up new markets that will help to double the number of visitors from South Africa or travelling through South Africa. We need to give that support to make the four flights by Air Seychelles really work,'' said Minister St Ange while chairing the tourism trade meetings on Praslin and La Digue.
"South Africa is Seychelles' fifth most important tourism market. Over the last six years the number of visitors from South Africa has increased tremendous and the potential exists for it to grow even further. Our offices have changed our marketing strategies to make the South African market even more viable for Seychelles now that we have increased air access capacity," added Mr Germain.