La Digue has theme song for own tourism marketing
15-September-2012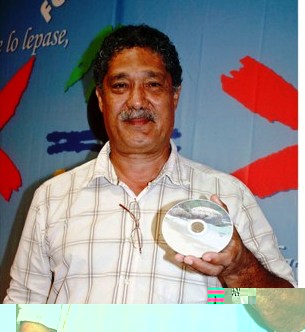 This is "La Digue, mon île je t'aimerais toujours", which has been produced on CD, a copy of which was presented to Tourism and Culture Minister Alain St Ange yesterday.
The song is the old favourite, "La Digue, mon ankor kontan ou" and Joe Samy says he is working on an English translation to cater for Anglophone tourism markets.
Several hoteliers and other tourism operators plan to fly to Reunion in November, joined by Joe Samy, to launch a marketing drive to woo vacationers to their island, which they believe has special attractions of its own.
Reunion has been selected because many of La Digue's original settlers come from this French-administered island.
It is also known that Reunionnais generally prefer bungalow and family-run accommodation to large hotels. La Digue boasts a dozen of small guesthouses.
It is believed that tourism operators on Praslin are also thinking of launching their own marketing, believing that the island is unique in many ways.
It is believed that Mickey Mancham's popular song "Praslin napa pti zil pli zoli ki ou" has been selected as the theme song.
It now remains for it to be translated into international languages to make maximum impact on visitors.
J.L.