Wind turbine parts arrive, offloading begins
21-September-2012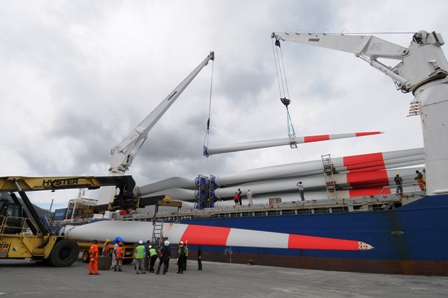 Over 100 different pieces arrived from Korea on board the Nina Scan, and a lengthy and delicate offloading process began in the afternoon.
Parts being offloaded include blades, tower, crane and many more.
Some of parts will be stored on the port in a specially prepared storage area and others taken directly to Ile du Port and Ile de Romainville.

The project manager for Unison, Grant Heyer, told Seychelles Nation that the offloading is probably one of the most delicate and dangerous operations done in Seychelles, with an example of each blade weighing four tons.
"A lot of planning has gone into all this and it's all going well for now. The crane we have brought weighs 300 tonnes and is the largest ever brought to Seychelles.
It will take us around three days to assemble it. But in about two to three weeks people will be able to see the towers starting to go up," he said.
Mr Heyer said it would take about five days to complete the unloading process, and the assembly of the wind turbines will start once the crane is assembled.