Police officers promote peace in the community
22-September-2012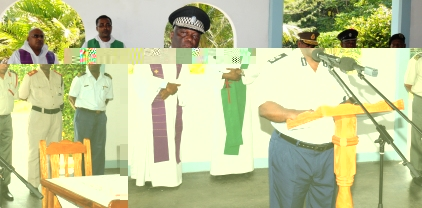 This initiative was launched during the official ceremony to kick off activities marking the Police Day.
The day coincides with International Peace Day and are both celebrated on September 21.
Launching the activities, Commissioner of Police Ernest Quatre said this initiative is a key aspect to help fight social ills and criminality in the country.
The ceremony, held at the Seychelles Police Academy at Pointe Larue, were attended by Chief of Defence Forces Brigadier Leopold Payet, acting commanding officer of the Seychelles Coast Guard Lieutenant Colonel Georges Adeline and head of the Public Security Support Wing Chief Superintendent Guy Roucou.
Others included the Pointe Larue district administrator, senior officers from various units, staff of the academy, and representatives of the United Nations Office on Drugs and Crime.
Blessings were given by the Anglican priest Father Danny Elizabeth and the parish priest Father Lonnie Adrienne.
For the past two to three years, police officers have been working in the communities across the country, visiting homes and talking to residents with the aim of reducing the risks of residents becoming victims of criminality.
The community policing unit has recently appointed in each station a community policing liaison officer to make their work more effective.
Mr Quatre urged the officers to educate people in the community on the importance of keeping an eye on their neighbour's place when there is no one around and to report to the police if they see any criminal activities taking place.
"People in the community need to realise that we are all vulnerable because we can all be victims of criminal activities," he said.
In line with this, the department has set up a new number 133 and members of the public are being urged to help the police in the fight against crime and to promote peace in the country.
Mr Quatre concluded his address by calling on all officers to take their responsibilities, to demonstrate discipline, respect and a high level of professionalism at work.
Other activities to mark this year's Police Day were blood donation, voluntary work at Foyer de Nazareth and the official opening of Perseverance police station.