Weightlifting-Referees and coaches learn more about new rules, regulations and techniques
25-September-2012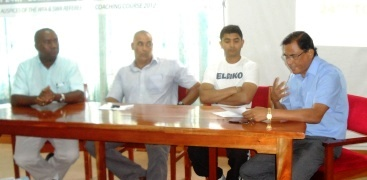 Jointly organised by the Seychelles Olympic and Commonwealth Games Association (Socga) and the Seychelles Weightlifting Association (SWA) under the auspices of the Weightlifting federation of Africa (WFA), the course is being conducted by expert Aveenash Pandoo, who is also the WFA development director. It will cover both the officiating and coaching aspects of the sport.
The work was launched by Socga president Antonio Gopal, in the presence of the association's secretary general Alain Alcindor, SWA president Robert Rose, Socga and SWA executive committee members.
Addressing those present, Mr Gopal first and foremost congratulated the SWA for the effort in seeking help for the course and expressed the Socga's satisfaction with the development of local weightlifting.
Mentioning some success of the SWA both locally and internationally, Mr Gopal said by applying for the course, the sport's governing body is preparing itself for the future, by planning ahead to sustain its success and improve further. He added that it is Socga's wish to see the sport progresses at district level, ensuring the availability of more lifters to compete at the highest possible level.
He also reminded the coaches and officials that taking part in the course will allow them the opportunities to follow more advanced courses to eventually officiate and run courses at higher level.
Mr Gopal also thanked the Olympic Solidarity and the International Weightlifting Federation for providing the resources to conduct the course, which he said will help in the preparation work for the lifters who will take part in the 2014 Commonwealth Games.
On behalf of the SWA, President Rose, who is also a technical member of the WFA, said the content of the course will boost the official and coaches ability, while the new techniques learned will ensure the sport's progress and keep the SWA abreast with the ongoing progress of weightlifting worldwide.
Mr Pandoo, who was in Seychelles 17 years ago as a lifter during the African Championship, said the course will equip the local official and coaches with the latest techniques in the sport.
He urged them to take the maximum out of the session and keep themselves abreast of the latest techniques and rules of the sport.
Among the topics which will be covered during the five days are the IWF manual, warm-up and its importance, the role of the coach, the myths in weightlifting, weightlifting rules, and nutrition in weightlifting, team management, and development of force in weightlifting, among others.