2012 Tourism Week-Tourism fair promotes sustainable energy
27-September-2012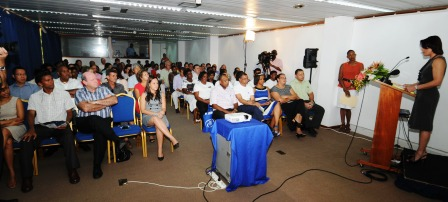 Delivering the keynote address in the presence of Tourism and Culture Minister Alain St Ange, some other ministers and tourism operators, the chief executive of the Seychelles Tourism Board (STB), Elsia Grandcourt, said she hopes that this fair "will prompt us all to consider the welfare of our tourism industry, upon which our national prosperity depends and to take steps to renew our commitment to it, to strengthen it and protect it".
"We should never forget that tourism is highly dynamic in nature. It never stands still for long. So, at no point can we say I have nothing further to do, because in the tourism industry we always need to be on the move -- always innovating, always pushing the boundaries of the possible. Always striving to be better."
Ms Grandcourt said through the adoption of our own sustainability label, we have an excellent opportunity to make a difference to our industry.
"We can all make this difference by adopting realistic measures which will ensure that the way we do things today will ensure a sustainable form of tourism, which will be responsible in nature and gentle towards our environment," she said.
Ms Grandcourt noted that the secretary general of the United Nations World Tourism Organisation (UNWTO), Taleb Rifai, in his message for the occasion said and she quoted:
"Sustainable energy initiatives are creating economic opportunities and jobs for millions, whether in tourism, energy and other sectors. As UNWTO findings show, the return on investment in sustainable energy can be enormous, enabling tourism businesses to grow and create jobs. At the same time, tourism infrastructure in developing countries is helping to bring modern energy services to some of the world's most vulnerable communities."
Ms Grandcourt said the Seychelles sustainability label if seriously adopted and carried through will become a powerful marketing tool with which to attract future business in a world that is more and more favouring sustainable practices.
"Please ensure that you take a moment to understand what it means, what it can do for you and how it can strengthen the industry upon which we and our children will continue to depend," she appealed.
At yesterday's ceremony seven assessors for sustainable tourism received certificates to carry out their functions. Three are from the STB: Philomena Hollanda, Janice Bristol and Keneth Tomkin. Others, such as Jeanette Larue, Lindsay Chong Seng work for conversation bodies and Kate Carolus and Brigitte Jeremie for other tourism organisations.
Speaking to the press as guests toured the different tourism stalls at the fair, Minister St Ange said with sustainable tourism, we can turn into a win-win scenario. He said it is up to every Seychellois to play a role to consolidate our tourism industry.
Guests touring the stalls
Turning to the STB, he noted that in the same way that fishermen are not expected to obtain any fish by sitting in the market, tourism marketing is carried out by STB in countries with possible tourism yields.
Among the stalls, the Berjaya Beau Vallon Bay displayed a collection of gadgets for rainwater collection for watering plants.
As guest speakers Dimitry Turpin of the Energy Commission and Mr Coetzee of Clean Plus had advised earlier, tourism establishments should put up notices advising guests to use water wisely, while others should urge energy conservation wherever possible by turning off lights when not needed, minimising the use of air conditioning and switching off plugs after use.