Tourism students benefit from overseas attachments
01-October-2012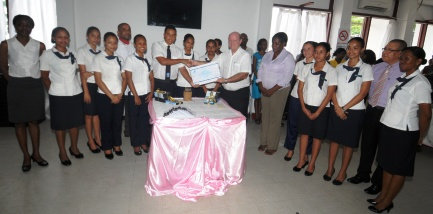 This was done in a short ceremony held at the STA on Thursday which was attended by Minister for Tourism and Culture Alain St Ange, chief executive of the Seychelles Tourism Board Elsia Grandcourt who also handed them the tickets, vice-chancellor of the University of Seychelles Marina Confait, special advisor for culture Raymonde Onezime and STA's principal Flavien Joubert.
Another six students – who also got their tickets – will be leaving for a two-month advanced training with third-year students at the Lycée Renaissance and Lycée Centhor in Reunion.
The STA says this forms part of a memorandum of understanding signed between the academy and the two Reunion colleges.
Mr St Ange wished all students the best of luck and stressed the importance of their coming back to Seychelles to work and honour their commitment to the tourism industry.
He also announced that he would soon be visiting Shannon University in Ireland where another batch of students are already studying as well as Dubai to visit those on attachment.
"In return we will honour our commitment to the students and the ministry will continue to give its total support to anyone in the industry," he said.
During the ceremony, the STA also presented Mr St Ange with a cheque for R10,000 as its contribution to the Festival Kreol. This was collected via a themed night examination – entitled Caribbean night – which was held on September 21.