Seychelles to mount visibility campaign for local artists
06-October-2012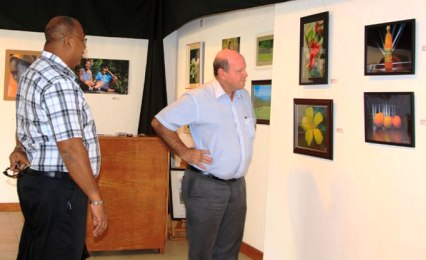 Minister St Ange viewing arts exhibition at the Carrefour des Arts and Kaz Zanana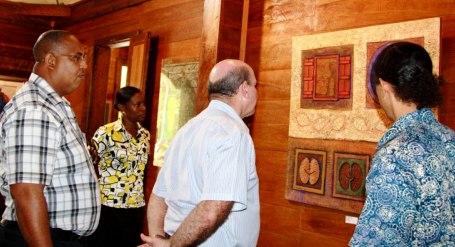 The Ministry of Tourism and Culture, in collaboration with its National Arts Council (Nac), remains conscious of the need to continuously work with artists to have art galleries to exhibit their works.
"It is clear that we are seeing new skills by some young budding artists as it is also clear that known artists are becoming more creative and innovative in their output. This is why we worked to organise the Arts Festival 2012 as a clear example of a new platform for the promotion of Seychelles' creative industry. We hope that enticing artists to demonstrate their creativity in the visual and performing arts will increase their visibility and get more of their works on the market," said Minister Alain St Ange.
"We've seen at the Carrefour des Arts – the gallery administered by the Nac – a collection of photographs in an exhibition mounted for the Arts Festival. The photographs include a fascinating close-up snapshots collection of faces from Sudan by Soukup Vaclav displayed along other collections from Jean-François Aglaé with his 'water dripping from the hill' shot and Alain Abel's colourful snapshots of the 'Victoria market'. This photography exhibition 'Klendey' is free and we opened it to the public to ensure everyone can see and appreciate the talent we have in Seychelles," added the minister.
It was Nac chief executive Jimmy Savy who guided Mr St Ange through the collection of photos being exhibited. The minister admired the remarkable exhibits by local artists and said he is impressed with the local talents portrayed in the Carrefour des Arts exhibition.
From the Carrefour des Arts, Minister St Ange headed to the 'Kaz Zanana' arts gallery where he was welcomed by George Camille, one of Seychelles' well-established artists.
Camille's collection of mix media paintings feature among the Aqualic, cross stitching, papers on canvas, conventional paintings and sculptures on display.
Work of arts of other renowned artists like Christine Payet, Alex Ernesta and Marie Mai Marie decorated the gallery's interior rooms. The imposing wooden sculpture done by Robert Alexis creates a perfect fusion between visual arts and craft works – the latter being an industry with a promising future for Seychelles.
Camille explained that the artists "were given an open theme to work on for this exhibition'' which was also opened during the Arts Festival. He said that "Seychelles needs a place where artists can showcase their exhibits".
Minister St Ange said he remains committed to ensuring that visual artworks become more visible in Seychelles.
"Visual arts should be used as a marketing tool for Seychelles to entice visitors to learn more about what is happening in the country. A more aggressive visibility campaign is needed to promote Seychelles' artistic works," said Minister St Ange.